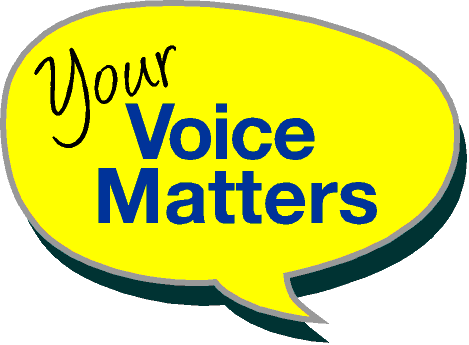 Promoting Care with Dignity and Respect
Please note Your Voice Matters is an information source only via this web site. The campaign ceased to operate in 2018

Your Voice Matters was established in 2010.
Your Voice Matters have a deep insight into issues relating to the elderly care crisis.

I realised there was a need for a campaign such as Your Voice Matters and I am proud the campaign gained a respected and credible reputation. Your Voice Matters truly understand the challenges families face when a loved one receives care, and also the plight of the care worker.

Many find the outspoken approach of the campaign uncomfortable, but this was never about making friends, it is about improving the lives elderly vulnerable people. We never sat back and said nothing, or said what people wanted to hear. What you see is what you get at Your Voice Matters.

We are often accused of damning all care homes and the staff who work in them. This is not the case.
​
We do not want to see care homes closing, residents traumatised by a move, families distraught, or care staff losing their jobs. We dream of a new era of smaller care homes, ones who really do deliver what they say. We dislike the new era of multi million pound care villages offering institutionalised care, and i feel heartbroken to see the masses falling for it.
​
We want to see an end to nauseating profit margins and care providers who are purely focused on increasing those margins, at any cost to human life. We want providers to offer quality training to staf, not the bare minumum and to pay a decent salary to reflect the demanding job they do in a care home or domiciliary care role.
​
We have had it said to us many times we do not post many 'feel good, positive' news on our social media pages. The care sector PR Teams, elderly charities, care home review sites and CQC have that well covered. The job of Your Voice Matters is to expose bad care or it will continue behind closed doors. It is those failing care homes who impact on the reputation of the good care homes, not campaigns trying to expose the bad to end it.

Over the 8 years we have been operating, many have contacted us because they have no faith in the Regulator. They have previously experienced a failure by the CQC to act on their courage to whistleblow. Many come to us in despair, as despite various charities, helplines, and Government bodies there is NO help for them when they witness poor care.

No amount of helplines or support groups can achieve anything if there are no systems in place to effectively deal with what they are being told. This is why legislation is so very important and is severely lacking in the care sector.

In 2011 we organised two Care Quality Commission (CQC) meetings in Cornwall. One for
families and one for care staff to come and talk about what hinders them in delivering good
care. One to one meetings were arranged for people to talk to the CQC. Sadly this did not
bring any positive change for Cornwall. Failings continue, as does a culture of denial.

In December 2013 Your Voice Matters attended a meeting with David Prior, Andrea Sutcliffe
and Nicky Nendick of the CQC. Many promises were made. Since that time we have failed to
see any changes in the CQC culture and it continues to give us serious concern. In May 2015
we commenced 6 weekly meetings with the CQC to share these concerns. In 2017 nothing
has changed.

In 2014, I attended a CQC Round Table Meeting in London to discuss covert/overt surveillance in care homes and mystery shoppers and came away thinking how sad it is that we are even having to debate these issues. I also felt very despondent after sitting listening to the views of the 'experts', thinking it is no wonder the care home sector is in such a dire state, and I could foresee this continuing as long as those responsible for our care services carried on as they were. In 2017 no sign of that changing !

The media have not always been forthcoming in helping us reach the public, and our followers have been told they are unable to mention us in press interviews. It has and does make our job so much more difficult. We have given local and national TV and radio interviews, and comments for newspaper articles, but these have not always been aired and if they have, often the facts are not portrayed as we had hoped.
In March 2015 we met the Shadow Secretary of State for Health, the Rt Hon Andy Burnham MP. Finally someone wanted to hear from a campaign for social care issues. We have met Andy Burnham several times since and other MP's and Ministers from both the Labour and Conservative Parties. Sadly after a two year effort, no positive outcomes materialised.

Many are not interested in the elderly care crisis as it does not personally effect them. They fail to understand one day they too will be old. Politicians do not see this as a priority for debate as the masses are not protesting. It is not a vote winner.

Everyone should be interested in making the lives of those in care homes safe. It is not just the present, it is OUR future. Help make a difference. One day it could be you or someone you love needing elderly care.
In 2018 my colleague Ian passed away and I begin my new life. Now it is up to others to find their voice, unite and say 'Enough'. We did our best. Click HERE.
​
I have no magic wand, but share our knowledge freely, to raise awareness and help people know what to look for and what to do when things go wrong. This is why this web site will continue as an information resource. Families and care staff need facts to help guide them through the smokescreens and PR stunts.
​
Thank you for your support and I hope you will find the web site helpful.
​
Jenny Moore
​