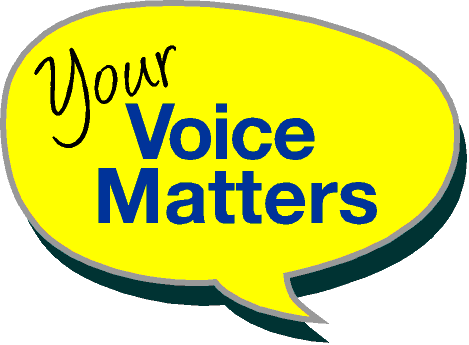 Promoting Care with Dignity and Respect
Please note Your Voice Matters is an information source only via this web site. The campaign ceased to operate in 2018

Care Home Open Day - Who is it really for?
Never believe everything you see and hear
19 May 2016 CQC "has given up on meeting its target of inspecting all care homes for elderly people under a new rating regime by September". Full story click HERE
"Care Home Open Day is a UK wide initiative inviting care homes to open their doors to their local communities. Thousands of care homes across the UK take part each year, welcoming the public and arranging events and
activities that help to create lasting links between care home residents and their local communities. This is all about showing people what excellent care homes are really about and how they can be at the centre of local communities, developing relationships across the generations."

"Care Home Open Day is about connecting people! We want to enrich the lives of the UK's care home residents by reminding people that care homes in every community are filled with unique, intelligent and charming characters, and run by special people that really do care." Care Home Open Day Web site 2015
Sounds great doesn't it? Now let us explore this initiative more closely.

Care Home Open Day began in 2012.

June 2016 "Over 150 CQC inspectors and other staff members visited participating locations on Care Home Open Day last year, and as the regulator of adult social care, CQC is looking forward to doing it all over again in 2016 where the theme is 'celebration.' Click HERE ""Along with many others, I really enjoyed visiting different care homes during Care Home Open Day last year" Andrea Sutcliffe 27 April 2016

June 2015 "Over 150 CQC inspectors and other members of staff visited participating care homes on the day". Andrea Sutcliffe June 2015

June 2014 "Along with more than 250 of our inspectors and staff who were out and about supporting the day, I had an absolute ball visiting three care homes." Andrea Sutcliffe June 2014

June 2013 "Nearly 100 CQC inspectors will be attending a number of homes across the country." CQC June 2013


Do you consider this to be an effective use of CQC Inspector's time? Bear in mind a press release only a few weeks after June 2015 announcement of 150 Inspectors participating in care homes on the day? .....


July 2015 CQC staff shortages delaying inspections. Click HERE to read article

Have our Regulators, the CQC, taken on the role of PR Team, for those they inspect? Is this not a conflict of interest? We think so. It became very apparent this year when we read a conversation on Twitter between the National Care Home Association and the CQC. 19 June 2015 conversation as follows:

National Care Home Association "Deeply disappointed that CQC have hijacked a planned positive day for care by publishing yet another negative report - shame on them!"

CQC Response "Hi there, wasn't a report, was data from our site as requested by the BBC. We have over 150 staff out supporting CHOD".

National Care Home Association "shame there wasn't more focus on great care"

"Our press statement highlights celebrating great care and staff." Click HERE to read CQC article 19 June 2015

It has been obvious to us since Care Home Open Day began, that there is a deliberate attempt to block all negative press on this one day. Is this the reason anyone supporting Care Home Open Day either block Your Voice Matters, or refuse to engage? They do not want their efforts of keeping bad news 'out' to be ruined.

Should CQC even be a part of this? Why are they defending themselves on the twitter conversation in 2015 with the National Care Association, who asked why CQC had released a negative press release on a positive day?

We feel it should not matter what day of the year it is as to whether bad press is reported, and we certainly do not consider it appropriate for the CQC to be involved in this event in any shape or form, let alone play a key role, compromising their REGULATION DUTIES. We consider this a conflict of interest. Does this not also send confusing messages to care home providers? One day we are here to support you, socialise with your visitors, help promote you, the next we will be coming in to conduct a robust inspection? It simply cannot be done.

You will see lots of photographs all around the UK around this time. A PR photographer's dream! Residents having promotional placquards placed in their hands, Senior CQC Staff, Dignatories, MP's to name but a few, all popping in for the obligatory photo shoot. Where are they the remaining days of the year? Do they get involved when there are issues at their local care homes? Not from our experience. They only want to be involved with the 'feel good' news. Dig deeper and read CQC reports on all the homes who are in the press for their fantastic cup cakes and entertainment for the day.
2014 Your Voice Matters spoke with Andrea Sutcliffe, Chief Inspector of Adult Social Care CQC, sharing her concerns. A mental health nurse contacted our campaign that year, expressing their concern about the disruption and possible anxiety caused to residents, especially those with dementia. Routines, familiar faces, all so very important. For this one
day, residents are subjected to unknown visitors, loud noise, commotion which could cause distress. This was not something we had considered, but took it on board as a very justified concern, one we wanted answers to.
Andrea Sutcliffe stated that a care home would act responsibly and any resident who may find this a negative experience would be in a separate area of the care home for the duration. We were horrified. For some residents with dementia
their coping strategy may be to walk the 'circuit' of the care home all day every day. They may have a routine where they sit in a favourite place at a certain time. Yet they are now restricted and deprived of full access to areas they frequent.
2015 We raised our concerns again with Regional Senior CQC staff, who they themselves were scheduled to sit in a care home that day. They failed to understand our view and refused to share our concerns.

January 2016 Shared our concerns with Minister of State Rt Hon Alistair Burt MP.
Highlighted numbers of CQC Inspectors partaking in this event, at a time
when our care homes are in crisis, homes closing, people at risk and a backlog
of inspections due to lack of resources.

April 2016 When we contacted CQC over a care home that had not been inspected
since last summer we were told CQC knew the homes needing re-visits, but they did
not have the staff to do it more timely. This comment has since been withdrawn.

Those of us who have worked in care or have had a relative in a care home know the
reality is far from what is portrayed on Care Home Open Day. We know there will
be no staff shortages on that day. The food prepared will be a treat for the residents
as much as the visitors and as for Activities? The residents will never have had it so
good. With entertainment in every unit. A month's Activities budget blown on one
day. The point of it all? A huge PR stunt.
We not only have fully staffed care homes, overflowing with goodwill, we have CQC
Inspectors sat in them to chat to visitors, when they should be doing the job they are
being paid to do, inspecting care homes and keeping residents safe.
There are so many stories in the press highlighting the dismal lives many of our elderly are having to endure in some care homes, an organised Open Day offers a public platform to promote to the public how wonderful these places apparently are. Look what a great a job we are doing! It is also a way of procuring interest in working in care.
Around the time of Care Home Open Day 2015 we noted a surge of recruitment ads, from care home providers and local authorities, inviting people to consider a job working in care. We know the sector is struggling, but why should they not follow normal recruitment processes like any other business?

These recruitment drives are being organised on the back of a manufactured Event - Care Home Open Day, some inviting prospective recruits to pop in to the care home during the day. It is a time when the media do their bit to 'help'.

Some examples. No doubt there were many more across the UK.

Anchor Trust "We're using the event as an opportunity to show what a modern career in care looks like". Click HERE
Cornwall Council. Click HERE

Dundee City Council and care providers. CLICK HERE

Augusta Care. CLICK here
The profile in care is raised on this day, an Agenda to flood the public arena with feel good positive stories. Often the way some care homes are portrayed on this day are far removed from the truth. The general public may not think to look up a CQC Report after reading a feel good news story. So is that not conning the public? We think so.

If CQC want to raise awareness with families, include information in care home information packs, not take your staff off the ground carrying out their inspections.
Here are just three examples. This is not unique to Cornwall Care, and is an issue to be found in many care homes nationally.
2015 We read CQC Inspection Reports of some participating care homes busy promoting their activities for Care Home Open Day. Unsurprisingly, many had failed Inspections. This illustrates perfectly the whole farce of the event and how the public are being deliberately misled.

Penberthy House, Newquay, Cornwall 2015 - "The provider did not provide a suitable range of activities, or systems to effectively support people with dementia." Click HERE to read CQC Inspection Report

Trevern, Falmouth, Cornwall 2015 - "There were no activities going on for people to occupy their time."
Click HERE to read CQC Inspection Report

Blackwood House, Camborne, Cornwall 2015 - "People did not always have access to meaningful activities"
Click HERE to read CQC Inspection Report
Your Voice Matters are not against residents of care homes being treated with cakes and entertainment, and no doubt there are genuine care homes who participate in Care Home Open Day with only good intent, but why should a positive day be regarded as a 'treat', should it not be the norm?
Why are such efforts made on a massive scale to broadcast to the world what a good job they are doing when this is what should be happening anyway? The very fact the sector are pulling out all the stops to manufacture a false image of a positive day in care speaks volumes. Despite all the 'feel good' stories the care sector and Regulators force feed us on this day, more and more care homes are failing and closing. Now that is reality.

A care home should be a place of santuary and familiarity, a residents 'home', not a place that for one day a year the doors are open for complete strangers to visit. Anyone genuinally interested in working in care, or wanting to know how care homes are run can call in any day of the year.

Our objection is this Event is being used by many for the wrong reasons; to defend negative press, for self promotion and recruitment. This day offers care providers many opportunities for FREE advertising and promotion.

We consider vulnerable people are being exploited, the public deceived and all for the benefit the care sector. We find the constant stream of staged photo shoots every year nauseating.

All we want is for care providers to value, pay and train their staff well, for residents to be cared for with dignity and respect and families to be welcomed, included and not victimised by threats of restricted visits, evictions and bans. I am sure everyone would agree that is far more important. Of course, those things would mean care providers having to spend money and time 365 days of the year, not just the one. Yet those actions would turn around care homes, they would be positive and happy places to live and work, and is that not what we should all want? I can't see a day of cup cakes, decorations and entertainment having the same effect and it certainly won't help find long term solutions to our care home crisis.

We hope that by reading this, it will encourage you be explore beyond what is presented to you by any care provider, and MP, local authority, elderly charity, or the care home Regulator.
Douglas Webb was Chief Executive of Cornwall Care Ltd, who operate a group of care homes in Cornwall, inherited from Cornwall Council. During the first few years of Care Home Open Day, he sat on the board at the NCF alongside Des Kelly. In 2017, despite his shocking reputation inside the sector, and failure at Cornwall Care he has landed a job as CEO at the Abbeyfield Society. Any names you recognise on the Board at NCF involved in care homes you know? Click HERE.

Despite Cornwall Care's claim on their web site "We strive to make every day extraordinary for our residents in our homes and clients in the community. Focusing on individual's needs, to achieve the very best standards of care". In 2015 many of their homes failed their Inspections, one area reported on was highlighting they were not providing activities for their residents. In 2016 they continue to fail miserably.
"For One Day Only". My suggested name for our now yearly farce of Care Home Open Day in the UK.
Having seen behind the scenes of this day as an employee of a care home, I saw the real farce of this so–called Open Day, inviting all and sundry to visit local care homes to see for themselves "what goes on". Well it shows you what goes on during Care Home Open Day but that's about it. The Your Voice Matters team would strongly suggest, if you want to see what a care home is really like, visit any day but this day. Weekends are a good time, or during handover times, when you will often be welcomed with unanswered call bells, residents sat on commodes in their bedrooms with their doors wide open with few staff supervising the residents due to staff shortages.
However, on Care Home Open Day it is a very different story. Extra staff on duty, special cakes and extra
entertainment arranged. For some residents this may be one of very few days of the year they have the luxury of any organised activity or stimulation, regardless of what the Activities posters say on the walls of the care home.
One wonders what the reason for this day really is. Is it really to show people the inside of a place that many
dread having to visit or, even worse, contemplate one day being placed in, by our own families? Do people who have no connections to a care home really want to see the reality of 'living well with Dementia'?

Those of us who have worked in care or have had a relative in a care home know thereality is far from what is portrayed on Care Home Open Day. We know there will be no staff shortages on that day. The food prepared will be a treat for the residents as much as the visitors and as for Activities? The residents will never have had it so good. With entertainment in every unit. A month's Activities budget blown on one day. The point of it all? A huge PR stunt.

Local celebrities, politicians, school children, Mayors, are invited to sample the "delights" of the care home, as the press merrily snap away for their next print date. The care home Manager trying to appear calm, but inside desperately wanting photo opportunities for their next newsletter or web site. Posters displayed in local shops and libraries, adverts in local newspapers inviting everyone along to the party.
This is the residents' home we are so often reminded by eager Managers, trying hard to convince us all that they actually do give residents their choices in how they live their lives within the four walls of a place that is supposed to be their sanctuary.

In my experience working in a care home, we were asked to invite local secondary schoolchildren who would be looking for employment soon. What a disappointment they must get once they experience the real deal.
The sad thing is when investigating the turnout at a couple of my local care homes, not one had any new visitors, only the invited guests and the families of current residents. No doubt it was all reported as a very "successful event" with many pictures of smiling residents in the local paper. However, we are told the whole point of this day is to encourage people to visit care homes who currently have no reason to visit one.
We do not need this one special day with care homes spending money to impress invited VIP guests.

We need and demand a better standard of care and environment for 365 days of the year. Not for One Day Only.
Christina Taylor
Ex-Activity Co-ordinator
STRAIGHT FROM THE HORSE'S MOUTH. Exactly what we have been saying. Is this really a special day designed to benefit residents? We don't think so and it seems neither does Mr Kelly. It is designed to defend negative press with lots of free media coverage and to present free recruitment drives. The all important word FREE.

"A challenge for care providers is the negative image too often associated with the care sector and a lack of awareness by the public. Care Home Open Day is an opportunity to counter negative perceptions and showcase the opportunities that exist in the care sector".
Des Kelly OBE Executive Director, National Care Forum (Summer 2015)
Care Home Open Day block us on Twitter. We are a campaign wanting residents to be cared for with dignity and respect. Only by addressing the truth can we change the culture. Why does Mr Kelly and so many others seemingly not want to do that? Des Kelly has now retired from NCF and just one of the pies he has his fingers in is the infamous Skills for Care Training Programme.

The lack of awareness Mr Kelly talks about in this statement is because the public are being prevented by Mr Kelly and others from knowing the full facts. This is why campaigns such as ours are so very important.

How can we ever trust people who they themselves are part of the problem and do not welcome those who want to help influence positive change?
How can we ever trust people who they themselves are part of the problem and do not welcome others from outside their 'network' who only want to help influence positive change?