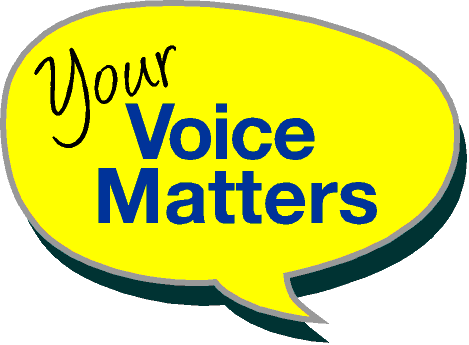 Promoting Care with Dignity and Respect
Please note Your Voice Matters is an information source only via this web site. The campaign ceased to operate in 2018

Concerns about Care?
What next ...?
1. Many families fear complaining, they don't want to cause a fuss.

Families speak quietly to care staff about their concerns, to avoid getting them into trouble, thinking it will be
easily resolved. Unfortunately, this is not always the case, resulting in your frustration growing.

You may then speak to the Nurse in Charge, and later the Manager, who will no doubt give reassurances the
failures have been rectified and will not happen again. Yet on your next visit, you discover they aren't.
You may then find staff who have once confided with you, appearing so friendly can suddenly change, and now
you dread visiting, as you sense the unspoken hostility during your visit. Please be mindful care home providers
will want to isolate you, you are easier to control. They do not want people speaking to each other about what is
going wrong in the home.

They may tell you staff have complained about them. They may tell you staff have complained about you. It is very clever and manipulating. They instil a sense of distrust and fear for their own self-protection. It is not always
true what you are being told, so do not let this influence your once positive opinions of some staff you previously
got on well with.
2. Keep a diary and if possible photographic evidence of your concerns, you may need this. We cannot stress
enough how important it is to have written evidence of the whole process, from when you first raised your
complaint to the outcome. You may feel too distressed and exhausted, but it could prove to be invaluable.
3. It is normal practice to approach the care home first with your concern.
4. Do you have a copy of the care home Complaint Policy? If not ask for one. Follow their guidance notes.

5. We recommend you take minutes of any meeting you have, and ensure both sides have a copy signed off
agreed as soon after the meeting as possible. This is important as we have known minutes produced over
12 months later do not represent the true content of the meeting. It is then harder to challenge.
For some families the issue may be resolved satisfactorily, but for some it can
escalate into an intolerable situation, after you have raised the same concerns
over and over, with no satisfactory outcome. You could find the spotlight
turned on you and now you have become an Habitual and Vexatious
Complainant. That is when you will be thankful you documented evidence.

6. Safeguarding. You may consider your concerns are a matter for safeguarding. What is safeguarding? This is a
huge subject in itself, but to summarise briefly:

Protecting your loved one's rights to live in safety, free from abuse and neglect.
Your loved one's well being is promoted, taking their views, wishes, feelings and beliefs into account.

If you have safeguarding concerns, contact your Local Authority Safeguarding Team without delay. Remember
to keep a log of date, time, who you spoke to and nature of your concern.

The effectiveness of Safeguarding Teams can differ from area to area in the UK. If you are not satisfied with
the outcome, do not think there is nothing you can do. We know of families who have contacted a legal firm and
have proven the Local Authority Safeguarding Team were negligent. it is always worth seeking that specialist
advice.

7. If your loved one's care is funded by the Local Authority you can contact them with your complaint. If they are
paying for their care themselves, they are referred to as 'self-funders'. In this instance, you would refer your
complaint to the Local Government Ombudsman.

8. If you are unhappy with the outcome of your complaint, contact the Local Government Ombudsman -
Making a Complaint Click HERE.

Be mindful that for many, the moment you raise a complaint with a care home, your relationship with them can deteriorate, but that is no reason not to do the right thing. You need to monitor your loved one's care if they are not able, and to be their voice. They deserve to receive a good standard of care.

If you hit brick walls and bullying from a care provider following making a complaint seek advice.
CQC - How to make a complaint about a service provider. Click HERE.

It can feel like you are being passed from pillar to post when following the complaint process with issues over the care of your loved one in a care home. Your Voice Matters have experienced first hand how obstructive and exhausting following this process can be, reaching the conclusion a long time ago, the complaints system seems to be designed to wear innocent people to the ground, in the hope they will give up. Unfortunately for them, some of us never will.

You have nothing to lose by seeking free advice from a No Win No Fee Legal Expert.
Please do not feel alone with this and never give up, as hard as that journey may be. Families need to unite, gain strength, comfort and support from each other.

Together we need to influence legislation to bring desperately needed change within our care home and home care sector, making this emotional and difficult journey easier for all involved.

Your Voice Matters are committed to creating a safer future for families when raising complaints to care home providers, as currently there is no protection for them or their loved one. It is time to close those loop holes!