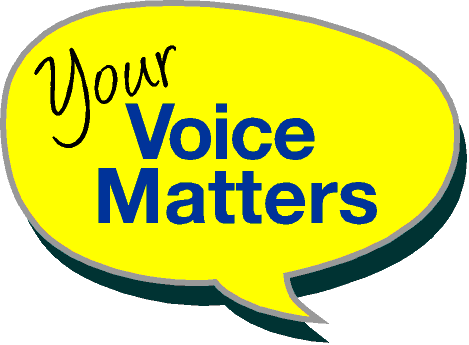 Promoting Care with Dignity and Respect
Please note Your Voice Matters is an information source only via this web site. The campaign ceased to operate in 2018

A Week in the Life of .....
A Home Care Worker
Rochelle Monte is a home care worker in the North-east of England. Her Diary was submitted to the Commission on the Future of the Home Care Workforce.

Monday

"Well, it was a struggle to get out of bed today – day 15 without a break. I have to work extra to be able to afford essential repairs to my car. Without the car, I am limited in the amount of work I can do and areas would need to be restricted, meaning less money to live on. Yet there is no petrol allowance or consideration to the increase in my insurance.

My first call today is to assist a lady out of bed. It's a two-person call, as she is very disabled. When I arrive, there is an awful smell. I then notice that her commode has not been emptied the night before and has been placed right next to her bed. How she managed to sleep is a wonder! We have an hour to assist but, once she is safely seated, I leave the other carer to assist with her breakfast and tidying up, as my next call often takes much more time than is allocated.
Mrs M is asleep when I arrive. She likes a lie-in, but they regularly give her a 9am call, so we are able to fit more people in. I offer her a drink to entice her to get up. This alone can take 20 minutes. Today, I'm lucky: 10 minutes and she is ready to go to the bathroom. Mrs M has difficulty with her bowels, so I leave her to use the toilet. Fifteen minutes later, she is ready to get washed. As this is a half-hour call, I am left with five minutes to get her washed, dressed, meds-prompted and make her breakfast. I have reported my concerns, but Social Services says this is an adequate time scale. I disagree! I would never leave a client because their time has elapsed, so I carry out all tasks as required – if a little rushed – and leave 20 minutes late.

Luckily, my next client lives with a family member, but as it is several miles away, I arrive almost half an hour late. Today is her trip to the day centre, so her family have given her breakfast and started to get her dressed. As most of the work was carried out before I arrived, I have condensed a 45-minute call into 20 minutes, giving me time to get to my next call, a simple medication prompt.

Mrs C has dementia and often requires more assistance than is currently in place. I offer her breakfast and a cup of tea and check that the house is safe. She has no family nearby and suffers from agoraphobia, so the three calls a day she receives are her only social contact.

I make an effort to sit and chat while she has her breakfast. Reading through her file, I notice that yesterday evening the carer was here for only 10 minutes.

As we are very short-staffed in a different area, I have been given some new calls to cover 15 miles away. This trip takes 25 minutes. So far today, I have spent one hour travelling and it's only lunchtime – that's one hour that I don't get paid for. I am running behind, so after preparing a microwave meal and a cup of tea for the service user, I run out without having time to have a conversation. It makes me feel so guilty, but there is always someone else waiting.

By the time I arrive at my next call, it is 1.45pm and the lady is very unhappy at my timekeeping. I apologise and explain how far I have come, but she very angry with me. I can feel my head pounding, knowing that I am going to be late for a sit I have to do next. I sit with the lady while her daughter goes shopping, but as I am half an hour late she will come back half an hour later, which means I have childcare issues. Again! I phone round and get my 76-year-old neighbour to agree to sit with my children, so that my husband can go to work. It's nice to get home and see the kids – they were in
bed when I left. But I haven't seen my husband at all.

Miles travelled: 42; unpaid travel time: 1hr 45mins

Tuesday

Early start again today. House was very quiet as I left at 7am. The schools are shut for the holidays, but I haven't been able to do anything with the kids and as I need the car, they don't get very far with my husband, either. I arrive at the first job on my timesheet, only to be shouted at, as the lady wants a 9am call and they keep giving her very early calls. She refuses to let me in. I wish they would consider people's choices more.

I report the matter and carry on early to my next lady. She is quite happy for me to be early as we can have a cup of tea and a chat after I have helped her dress. I love it when this happens. I also get chocolate biscuits, which is great, as I haven't had time for breakfast and it's very unlikely I will get time for lunch, either.

I know when I arrive at Mrs B that all is not good. She is sobbing uncontrollably as I enter and I struggle to understand what she is saying. I am due to be here for half an hour to assist with washing and dressing and then encourage her to eat. I spend 20 minutes trying to calm her down before I can even suggest getting started. Mrs B is due to have a shower today, but I have to assist with just a quick wash and dress before leaving her with some breakfast.

I am supposed to monitor her food intake, as she has been refusing to eat, but I am already 20 minutes late, so I really have to get on. I report this to the office.

I am back at Mrs C's for a medication prompt. I have one hour's break after this call, then I am due to come back for her lunch. I decide just to stay. Mrs C needs assistance with domestic tasks, so I encourage and support her to do some washing and while I cleaned the bathroom she vacuumed through. Mrs C really enjoys these normal activities and it's great to see her looking so proud of her achievements today.

I get to the lady who shouted at me yesterday at a much more reasonable time. She even apologises – but really it's something you get used to. I make her lunch and make sure I am with her the whole half-hour, as I don't want to upset her again. I have a break today, then back at 5pm. My husband is off so I can work later. We have a sandwich and a coffee and I see the kids for a bit before I head off again.

My son begged me not to go. He was screaming as I left the house. I don't think we have spent more than four or five hours at a time together this holiday, as I am desperate to make sure my car is roadworthy.

I have three tea calls and two people to undress, a catheter bag to empty, one medication prompt and two men to put to bed, so I can't afford to get stuck in traffic this evening.

It all seems to run quite smoothly, as I only have to cut the odd 10 minutes off calls to allow for travel. My last call always runs over. I am due to finish at 10pm, but most staff don't take the time to speak to Mr E. His wife is very ill and they have no children. Mr E needs assistance to get dressed for bed and I also give him medication.

As he has little social contact, he hangs on to everything I say and begs me not to leave. I tidy around while we are chatting, basically making the floor safe to walk on. Social funding has been reduced and his services have been cut. Mr E is severely visually impaired and needs help with domestic tasks, but as he has to pay privately for this, he has cancelled these calls. Mr E is using this money to pay for assistance and transport to the hospital to visit his wife.

I eventually leave at 10.40pm, knowing that my husband will be very unhappy at how late I am and all the kids in bed when I get back.

Miles travelled: 36; unpaid travel time: 30 minutes; unpaid work time: 1hr 40mins

Wednesday

A whole day without the worry of how much petrol will cost or if my brakes will continue to work. The car is booked in for repairs and I have a two-man run with another driver. I was a little confused that my timesheets stated that I started at 5am, but after phoning the other girl, she said it was OK for her to pick me up at 7am. It becomes quite obvious early on that this is call-cramming at its worst.

Each service user is rushed in a way I honestly haven't seen before. On one occasion, as we are leaving I say: "I will just open the curtains", to be told that I have no time and her husband will have to do it. We manage to cover six hours' work in less than four. The driver seems positively proud of her ability to reduce the timing of calls. I am even warned before entering a house not to get into conversation as this will just hold us up! At one point, I ask why she has so many people to see when it is obvious that they are not getting the care and support they so need. She tells me that the office staff know she is quick, so just piled on more – meaning she could get paid 60 to 70 hours a week for working much less.

I feel extremely disheartened at what I have seen today, but given the lack of pay and poor terms and conditions, this way of working has become the "norm" for many.

Tonight, I feel like crying – I'm not sure if it's work or the £280 I've just had to spend on the car. After finishing early, I would have loved to take the kids somewhere nice, but that's quite frankly impossible. We walk to the park – I worry about using petrol for non-work purposes.

Miles travelled: 0; unpaid travel time: 0; unpaid work hours: 0

Thursday

Day 18 and this is beginning to be a real struggle. After an early night, I expected to jump out of bed feeling refreshed and revived. Instead, it feels like I've had a bottle of whiskey. I've no time to feel ill. I have four people to get up and dressed. One of those needs a shower. Then a medication prompt, followed by four lunch calls and a two-hour sit. All seems to be going well until I get to the man who needs a shower. He suffers from dementia and can become rather violent. After struggling to wake him and get him out of bed, he becomes quite angry. (I would be angry if someone came in and woke me up to get straight in the shower!) This means that I am held up quite considerably trying to calm him down. I have 45 minutes for this call, which often is sufficient time, but today I am there 1 hour 5 minutes. I usually feed him his breakfast but, as I have overrun so much, his wife offers to help out once I'd got him ready, so I leave her to do this while I hurry on. Mrs C is next on my list. Luckily, a medication prompt can be done in five to 10 minutes, so I am able to make up a bit of time. I know how much she loves a bit of social interaction and I feel so guilty having to leave her with just a hello/goodbye.

With little or no information on service users, it can come down to guesswork on a lot of calls. My next medication prompt tells me that she has taken her meds. I am not convinced. After offering her a cup of tea, I call the office to ask where medication is kept so I can check. I find her medication, along with 11 old dosette packs, all of which contain medication that has been missed. Others must have accepted her explanation and left without ensuring administration. This means that I have to return all packs to the pharmacy and get a receipt. It takes 25 minutes – time, again, that I don't get paid for.

Some days, I think about getting another job. I would get paid more and pay less in petrol if I worked in a supermarket. But I love my job. I really do care and have wonderful relationships with my service users and their families. All I want are better terms and conditions – and a living wage would be nice!

As per usual, I end up running late, thanks to the medication error, so manage to see my husband for about five minutes before he flies off to work and I get the kids ready for bed. I feel like a single parent some days.

Miles travelled: 39; unpaid travel time: 40mins; unpaid work time: 45mins

Friday

Ahh – only another 15 hours of work ahead then two whole days off to spend time with my family. It feels like I've been at work for months now. My husband is off again tonight so I am just working straight through. I hope to make up at least half an hour so I get a chance to come home and see him and the kids – and maybe even get something to eat!
Well, that was a stupid idea. Where did I get the idea that I may get a lunch break? I thought 15 hours for one day was more than enough, then someone called in sick. Originally, I had a sit this afternoon, followed by four tea calls, two medication prompts, three undresses and three put-to-beds. I was then expected to fit in an extra two tea calls and a medication prompt, followed by an extra call to put someone to bed. It's impossible to stick to my times. I have to start getting people ready for bed at 5.30pm and cut most calls down to 15-20 minutes. The medications are done in 10 minutes each. I hate cutting calls, but if I didn't I would still be putting people to bed after midnight. It's not always comfortable being out late at night, travelling alone, but as none of my service users requires two people, I would never get anyone else to come out with me.

Lunch was a dried-out offering from the local garage and a multipack of crisps, all of which I managed to eat while driving. What with that and the speed limits I have managed to break, it's surprising that I haven't got myself a criminal record today. But on the bright side, there was no time to waste, so I have managed a day without any unpaid time; the down side being that I don't think any of my service users has had a conversation or quality time.

After a quick shower and hello to my husband who was waiting up, I collapse into bed, looking forward to doing something with my family (I haven't seen my kids at all today). The phone is to be ignored all weekend!!

Miles travelled: 64; unpaid travel time: 0; unpaid work time: 0"

Written by Rochelle Monte 2014

The Commission on the Future of the Home Care Workforce is supported by the Local Government Information Unit (LGiU) and Mears Group.