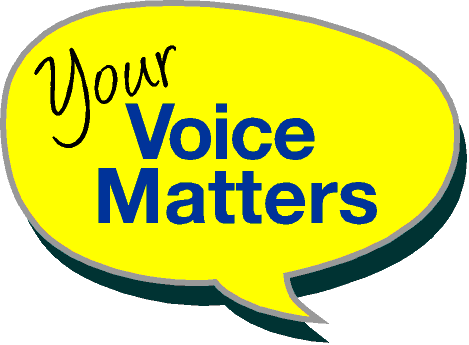 Promoting Care with Dignity and Respect
Please note Your Voice Matters is an information source only via this web site. The campaign ceased to operate in 2018

Our Regulator for England
(CQC)
The most recent information on CQC is at the end of this page.

The Care Quality Commission (CQC) is an executive non-departmental public body of the Department of Health, established in 2009 to regulate and inspect health and social care services in England. Click HERE for web site.

The CQC's stated role is to ensure hospitals, care homes, dental and general practices and other care services in England provide people with safe, effective and high-quality care, and to encourage them to improve. It carries out this role through checks it carries out during the registration process all new care services must complete, inspections and monitoring of a range of data sources that can indicate problems with services.
As of (29/01/15) The CQC has 32,972 related Care Homes registered with the CQC.
We receive many requests from families and care staff asking for help as they do not trust the Regulator for a variety of reasons, often because of previous experience. We use our direct links to more senior staff at the CQC and report our concerns. However, often their Inspectors choose not to visit the care home, but make their enquires by telephone, believing the word of the care home provider. We then have to apply pressure in order to push for a CQC visit. It is even more frustrating when they do so and fail to uncover and prove the truth.

Our view is CQC are reporters, they are not investigators and that is what is needed in many cases. There is nothing to be gained by an Inspector being shown documents that may have been altered, or them believing the words of a care home owner/manager, as we know in many cases happens. The job needs an investigative mind.

It is felt by many, including us, that our Regulators are not robust enough. They introduce new inspection regimes saying how they are improving, but continue to fail.

CQC Experts by Experience. "We try to involve people who use health and social care services in everything we do."
However, they do not include campaigners such as Your Voice Matters. We asked if we could attend a day of inspections to gain an understanding into the challenges an Inspector faces, we were told that is not possible. Why not? A campaigner from another organisation was told she was 'over qualified', another campaigner was ignored. Do they only want those they know they cannot influence? Some Experts by Experience who we have had reason to communicate with have proven to be very defensive and do not welcome criticism of the CQC. Click HERE.

A large percentage of our time at Your Voice Matters is spent on issues concerning our failing Regulator the CQC. We are as frustrated and annoyed that such extreme efforts are needed to expose and prove concerns raised by others and supported by us, were totally justified. That first call to the Regulator should have been enough.

We are a small team and sadly we do not have the resources to keep tabs on all the care homes in the UK in order to keep on top of an ineffective and what we consider dangerous inspection system. We only see a snippet of the whole picture which is bad enough.

20 September 2013 the Telegraph Headlines read "Whistleblower warns elderly left to suffer because regulator refuses to act". "Workers are discouraged from taking robust action when they uncover risks to the most vulnerable, she added. Mrs Prideaux resigned from CQC in May, saying she had repeatedly urged senior managers to improve the training given to hundreds of inspectors who visit care homes and hospitals." Click HERE
2013 CEO David Behan and Chair David Prior sit before the Health Select Committee.
CQC are not without their scandals, yet they seem to have
charmed lives. Remember 2013 with the Morecambe Bay NHS
Foundation Trust investigation? Mothers and Babies died.
"This report is a damning indictment of CQC," he said. "It outlines incompetence, complacency, dysfunction. It shows a
culture of suppression and oppression. "It described an
organisation that was not fit for purpose. It also revealed very
strong evidence of a cover-up of a document.
A meeting took place, a paper was produced about addressing some very serious issues about Morecambe Bay, and then that paper disappeared. That is very strong evidence to me of suppression." "The CQC" he added "had been more interested in protecting its own reputation than in revealing the truth." Click HERE.
2014 It was reported in the media that the CQC "had a renewed sense of purpose". We have seen no changes in the quality of care our vulnerable are receiving, regardless of how many new initiatives CQC introduce. Click HERE.

Roy Lilley Health writer and commentator writes on his views of the CQC 24 August 2015 Click HERE

2015 we see the launch of the CQC new regime of inspections. More and more care homes are being reported as failing, some closing. With our own reseach at Your Voice Matters, we see that some new 'exposures' of poor standards must have been visible at the last inspection under the previous regime, i.e. poor maintenance of buildings. Is the new regime of inspecting a smoke screen, to be used as a shield for their own self preservation? To say they are now exposing more care homes due to their new robust inspections, instead of saying 'We saw it before but ignored it, because we could get away with it'?
Summer 2015 we said to a Adrian Hughes, Deputy Chief Inspector for the south region that 'care home providers do not respect you, they are not concerned by you and they do not fear you'. His response 'We do not want them to fear us'. Your Voice Matters disagree. Care homes should dread a visit from any Regulator. They should not have the reassurance that they will be given chance after chance to put right their failings. We also feel 4-6 months is far too long for a re-inspection following a failing one. What is more shocking is when they re-inspect and the home is still failing, they are given even more time to put it things right. If some providers know they have no intention of making improvements, they will go through the motions to bring in a few more months income before they will be forced to close. This is simply not acceptable.

We are told by the CQC they are so restricted as their powers are limited, yet we recall the
Health Select Committee offering CQC more powers. David Behan declined. However, in
2014 it was reported in the media the CQC would be given more power, people welcomed
this news, forgetting that not that long ago, he did not want it.

You will see Mr Behan has held various high profile positions and was even awarded a
CBE for services to social care ! Click HERE

We talk about accountability for care home owners/directors, the same should apply to
the Care Quality Commission and their Chief Executive David Behan. He too should be
made accountable for the failings of this repeatedly failing organisation.
In 2014 David Prior made a statement admitting elderly and vulnerable were failed
by them because they feared legal threats from owners of care homes. The head of the
Care Quality Commission (CQC) said it has too often "backed off" from making attempts
to close unsafe homes and "tended not to fight back" when was legally challenged.
Click HERE

What hope is there if an organisation who are supposed to regulate care homes fear
them? Families and care staff don't stand a chance. There is no one there for us.

From what we see at Your Voice Matters, there are certain care providers we feel
continue to be protected by our Regulator.



14 May 2015 we read that David Prior had stepped down and was appointed Under Secretary of State for health, the latest Department of Health appointment to David Cameron's all-Conservative Government. Click HERE

CQC Chief Inspector of Adult Social Care Andrea Sutcliffe writes regular blogs.
Click HERE for CQC Blogs. All written very well meaning for those who have not had
first hand experience of this organisation and their senior people. Sadly campaigners
like us, who have met her see how empty these promises really are. We soldier on,
spending a great deal of our time on CQC matters, which includes acting on families'
and carers' behalf, who are being blocked by the system. We include Andrea in
some of our email contact with Regional Deputy Chief Inspectors, but this does not
make any difference to the outcome. She has asked for information from families,
we deliver .... silence, whilst the care home continues to fail. I spoke to her after my
relative who has dementia received appalling care in hospital after developing an
avoidable UTI. Her response? 'What do you want us to do about it?' Should the CQC
not be telling US what they are going to do about it. The same statement has been said
to families from CQC Inspectors. We have yet to see any positive outcomes from our
extensive dealings with CQC over the last 6 years. For us, actions speak louder than words and words are something senior CQC people are very good at.

There are many who have issues with the competency of our Regulator. Here is an example of a fellow campaigner,
William Hollingshead of the Justice for Janette (Click HERE for facebook page) wrote:

"The Justice for Janette" campaign is essentially an employment issue and so will not be discussed here.

However, during legal proceedings in this employment issue the care home, Heathlands Village in Prestwich, Manchester (run by THE FED - The Federation of Jewish Services) falsely claimed data protection on documents withheld from the internal investigation. The home finally, but reluctantly, released the documents following an application for a Court Order albeit too late for practical use at the Tribunal.

The withheld documents were to reveal that an issue of alleged abuse had been withheld from the investigation. The allegation was made against a Mr Martin Ighodaro and involved an elderly person. They also confirmed that the female resident was so distressed by the experience that Heathlands Village spent half an hour attempting to calm her down in order to prevent her from making a complaint against the home.

Of greater concern, the documents also brought to light that the Clinical Director of Heathlands Village (a Mrs Karen Johnson) had also willingly and knowingly quoted, under oath, while sitting on contradictory documentation, an untrue statement from Mr Martin Ighodaro, the alleged abuser, in order to maintain his credibility as an 'accuser' in the employment matter. Indeed, Karen Johnson had also knowingly given false testimony on a number of other issues including documentation connected with the investigation.

The managers involved were also to falsely report to the Adult Safeguarding Team that '... no complaints had been made about Mr Martin Ighodaro' despite these managers being in possession of withheld witness interviews documenting a catalogue of complaints against him including the allegation of abuse.

Of course, it is argued that untrue statements are often expected from employers at Tribunals, however, of particular concern is the following matter which I would like to bring to your attention.

Care Quality Commission The Clinical Manager Karen Johnson, a person shown to have previously given false information in favour of the home, is listed with the Care Quality Commission as the 'responsible person' for Heathlands Village Care Home. Karen Johnson is the very person the Care Quality Commission continue to approach and depend upon for accurate and reliable information during their inspections.

As a matter of urgency the important concerns surrounding Karen Johnson's professional integrity in regard to her status were highlighted in a detailed report submitted to the Care Quality Commission. From this point onwards not only were the doors of the home itself to be closed on my investigations but also the doors of the Care Quality Commission.

1. The Care Quality Commission refused the reasonable request to verify whether Heathlands Village Care Home had reported the allegation of abuse which had been uncovered from the withheld documents. They were to refuse a second request for this vital information made under the Freedom of Information Act. They stated that they would neither 'confirm nor deny' the matter.

2. The Care Quality Commission dismissed the specific matter concerning Karen Johnson's professional integrity with the extraordinary claim that it was 'outside their remit' because it took place during an 'employment issue'.

3. The Care Quality Commission were later to dismiss the matter further with the false claim, based on false information, that the matter had been dealt with at the Tribunal. This was quite untrue as the particular issues regarding Karen Johnson's integrity, as the Care Quality Commission were repeatedly informed, came to light, AFTER the proceedings. The CQC failed to respond to these points of fact and refuse to examine the documentation.

4. Despite repeated requests the CQC refuse point blank to reveal the source of the false information in order that it might be challenged against the dated documentation. In fact, they refused to examine any of the fully documented evidence and to date continue to treat all communications with contempt.

5. The CQC have since blocked the Justice for Janette campaign and myself for attempting to bring these important matters of public interest to the attention of the public.

In Conclusion

Many believe that the professional integrity of the home managers approached by the CQC during their inspections is of paramount importance. The CQC's willingness to casually dismiss such important matters of concern naturally creates further concerns over the very integrity of the CQC's inspections themselves."

William Hollingshead On behalf of the 'Justice for Janette' Campaign 1 September 2015

2 September 2015 The Independent reports "Elderly people put at risk as watchdog fails to act on warnings of 'fatally negligent' care homes". Click HERE.

3 September 2015 CQC's response to The Independent article and we hear once again CEO David Behan's oh so familiar favourite phrase " We know there is more work to do." How many more years do we need to hear that Mr Behan? YOU should be made accountable, yet you seem to have a charmed life, just like your organisation the Care Quality Commission.

"But this isn't just about processes" says David Behan "It's about people's lives. For that reason, we need to keep working hard to ensure that we get it right every time." YET you continue to put lives at risk, even when your senior employees are given the facts. We know because we have been one of the organisations feeding you information which your staff fail to act on.

Click HERE to read the CQC reponse to The Independent.

6 November 2015 The Telegraph "NHS watchdog staff put up in luxury hotels, stately homes and country houses". Click HERE.
2017 - New Years Honours. David Behan became Sir David Behan for his services to health and care. Click HERE.

"I am proud and humbled to receive this honour. I began my career with a belief in the inherent dignity and equality of every person. This led to a lifelong commitment to social justice which is as strong today as it was 40 years ago. The best social care and health has the power to transform people's lives. I feel both lucky and privileged to have been able to serve the public in some wonderful roles over the years."
​
2018 - New Years Honours, Andrea Sutcliffe became Andrea Sutcliffe CBE "in recognition for her achievements and public service spanning over thirty years. Click HERE

15 January 2018 - Sir David Behan announces his intention to step down as Chief Executive of CQC. Getting too hot in the kitchen Sir Behan? Click HERE.

I am sure you will agree, there comes a point when you have to say 'Enough is Enough'.

Our Regulator is simply not fit for purpose and we intend discussing alternative options at Government level, to introduce a new era of Inspecting care settings, one that acts in the interest of the vulnerable, not the care providers, and does not include the Care Quality Commission.
​
As a dedication to my colleague and dear friend Ian Cresswell who sadly passed away on 13 January 2018, here is his blog 'CQC The Weakest Link, Goodbye!' Read HERE.
​
​