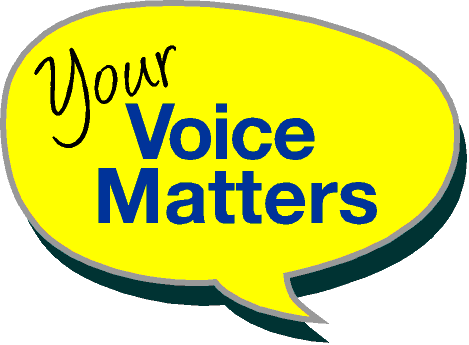 Promoting Care with Dignity and Respect
Please note Your Voice Matters is an information source only via this web site. The campaign ceased to operate in 2018

WHY WE SUPPORT OVERT SURVEILLANCE IN CARE HOMES
"Please Help Keep Me Safe"
It does not take long for today's shocking media story to become historical news, soon to be forgotten, until the next time. Your Voice Matters do not want a 'next time'.

CCTV alone will not stop neglect and abuse. It is just one of many tools in the box. However, it can be a very effective deterrent. It is not just the issue of installing the cameras we need to consider, the way it is managed is equally important, and that has to be managed by a totally independent body, unattached to the care sector or Government, one the public would have confidence in.

PRIVACY AND DIGNITY

The dignity and privacy of a vulnerable person is of paramount importance to us. We would NEVER endorse anything that compromised this. This is why we need experts to help us with regards positioning of cameras, audio monitoring, pixelated imagery, the monitoring of recordings, legalities etc.

We consider the consequences of not having surveillance to be a far greater concern, and know that serious abuse would be more likely to happen away from communal areas, in bedrooms and bathroom areas and as we have read many times, during residents receiving personal care.

We see no reason why CCTV cameras cannot be used in all communal areas in care settings, with carefully considered more discreet monitoring in personal bedrooms and bathrooms. Surveillance should not be viewed solely as cameras fixed to walls. There are various forms of monitoring including audio, pixelated images, positioning of cameras is another consideration.

CQC, the media and campaigners concentrate on promoting CAMERAS, a means to watch a care staff member's every move. This could alienate care workers and cause friction between them and families. We want openness and transparency.

CQC "Using surveillance Information for providers of health and social care on using surveillance to monitor services" Click HERE

In 2015 the Care Quality Commission (CQC) produced Guidelines for families on how to 'secret spy' on care staff. This is not what we wanted to hear at Your Voice Matters and the word 'spy' in itself felt wrong. The Guidelines offered nothing of any substance for families, with many loopholes for care providers. CQC "We've published information for people who are thinking about using hidden cameras – or any type of recording equipment – to monitor someone's care."
The CQC approach will cause an even larger divide between care homes and families, a mistrust before a complaint even arising. Families under suspicion from Day 1. Why should families have the expense of purchasing equipment, the stress of installing it and viewing the footage?

Families have to learn many new roles when they place a loved one in a care home. They have become experts in many areas including medical, legal, the care system itself and now the organisation responsible for ensuring care homes are doing their job well are now asking families to become private detectives!

Families should be able to focus on their loved one 100%, making the most of the time they have together. Many of us have already been deprived of that by those who are being paid to 'care'. We know of families who have taken this action and it has caused them a great deal of anxiety, plus the expense of purchasing the equipment. What happens if those families are elderly themselves or if the resident has no family? Who will look out for them? Everyone should be afforded the same degree of protection.

The harsh reality is that neglect and abuse is happening in our care homes and home care settings. We need to accept the cases we hear about are not isolated, despite what we are being told by the care providers in the well scripted familiar press articles we read following an exposure of failings.

Please remember the cases you read in the press are only the ones that we get to hear about. Campaigners such as Your Voice Matters speak to families and care staff on a regular basis. Many complaints are unreported, or dealt with internally. If a complainant follows the legal route, they are often 'gagged' from discussing it with anyone.

This is one reason we show concern about Advocate services. Care homes are likely to welcome this with open arms. It will mean the complaint stays in house and campaigns like us may never get to hear about it to help us build up historic information about particular homes. We know that this will not prevent the same thing happening again, if not to that resident, to another.

Families and care staff are faced with a complaint system that treats complainants like the guilty party, passing them from one organisation to another, knowing they will get no resolution. Many give up, their health and lives destroyed. Is that why the process has been set up as it is?
​
Only those who have had to raise complaints to a care home provider can appreciate why there is a need for surveillance in care homes.

The fact remains there is nowhere you can go for help. Without evidence you have nothing. It is your word against the care provider.

More and more families are installing their own secret recording devices. More and more whistle blowers are obtaining visual proof by recording evidence. Why? Because the care system does not listen to their concerns and does not support them.
It is stressful and upsetting for many families to have to place their loved one in a care home. To find themselves having to fight, just to receive good basic, safe person centred care. It makes their care home journey alongside their loved one even more harrowing. We advise families to keep diaries, take photographs, compile their evidence and we hear from many families all over the UK doing just that, but even then, in the end, without that visual proof, it can be discounted, as care records have been known to be falsified.

We wish there was no need to be discussing CCTV, but sadly we have to. We can no longer look through rose tinted glasses and need to face up to the reality head on, not shy away from the unthinkable. The unthinkable happens.
​
To place CCTV in communal areas would be a start.

ALTERCATIONS BETWEEN RESIDENTS

Often there are not enough staff to monitor all communal areas within a care setting, and residents are left, often unsupervised for long periods of time.

(WARNING some images on press releaseses may cause distress)

2015 Alleged care home attack. Click HERE

2015 "Family wants answers over death in care home" seeking legal advice. Click HERE

2014 "Frail 92-year-old woman is battered with walking stick by resident at care home" Click HERE

2014 "Insufficient Evidence" "An elderly man died after suffering injuries consistent with being "kicked" or "stamped on" while living in a care home" Click HERE

FALLS

Residents can fall in communal areas, lounge, corridors. Often this is not witnessed and no staff know how the person ended upon the floor where they found them. Families can raise safeguarding alerts, but without witnesses or visual proof no investigation can take place and the case is closed.
CHOKING
Residents can choke in dining areas during meal times, sadly some cases fatal.

2015 Black Swan Care Group . Death by choking. Click HERE
2015 Findsbury House. Death by choking. Click HERE

2014 MPS Care Group, Longton Nursing Home. Death by choking. Click HERE

2014 Anchor Trust, Death by choking. Click HERE

"We are deeply sorry for the failures in care in one of our homes which led to the tragic death of Mrs Newton. This was an isolated incident". A number of important lessons have been learned and implemented."

Some say care staff will feel spied on and hate the idea of being 'watched'. However, there have been several surveys over the last 12 months and all have shown the majority of care staff to be in favour of CCTV. We hear from many care staff and health professionals who have no objection to CCTV if it is managed correctly.

Perhaps we need to start asking ourselves who is it that actually objects and is stopping this from happening?

carehome.co.uk survey 2014 - 69.27% people said they agreed with CCTV. Click HERE to read
February 2015 - 70% of care home workers agree that installing visible cameras could help to identify and prevent abuse. Click HERE to read press release.
On 22 June 2015 we read that Nurses voted opposing CCTV in care homes. Why? Click HERE to read press release.

HC-One portray themselves to be very pro-active on this subject, consulted and included by the media and the care sector. HC One also issuing tablets for residents to feedback views on their care. Yet in June 2015 we read another of their care homes failed their Inspection and they were placed into special measures. Click HERE to read CQC Report.

We must remember CCTV is not only for the safety of residents. Care staff can be assaulted and falsely accused by families. Visual footage would prove what happened during an incident. It would save much time on investigations which puts a drain on already stretched resources, in turn reducing stress for all parties involved. CCTV could also be used to promote good practice in care and be incorporated into staff training.
Correctly managed CCTV would provide invaluable reassurance to anxious families and that should help prevent or ease any strained relationships between them and care home staff.
Your Voice Matters strongly believe the only way is for there to be legislation enforcing CCTV and additional surveillance in ALL care homes, with very defined and accurate guidance of how it should and should not be used and this is what we will continue to fight for.
We do not want the management of a surveillance system to be controlled by individual care homes. It should be managed independently by a body unconnected to a care organisation or Government.
Our efforts to find someone who could help Your Voice Matters progress their vision for CCTV in all care homes, led us to Dr Malcolm Fisk. In 2014 we approached Dr Fisk, inviting him to the Care Quality Commission Round Table Meeting covering Surveillance in Care Homes and Mystery Shoppers. We have remained in touch and he continues to support our Campaign. On 6 July 2015 Dr Fisk attended our meeting with Shadow Health Secretary Rt Hon Andy Burnham to discuss this issue. We hope by continuing to work alongside each other we can influence legislation.
29 December 2015 "Cameras in care homes - now a serious consideration" Dr Malcolm Fisk
To watch video click HERE
On 1-3 July 2015 Dr Fisk delivered a presentation on cameras and surveillance technologies in care homes at the British Society of Gerontology Conference 2015, Newcastle-upon-Tyne. We were delighted Your Voice Matters were acknowledged in his presentation.