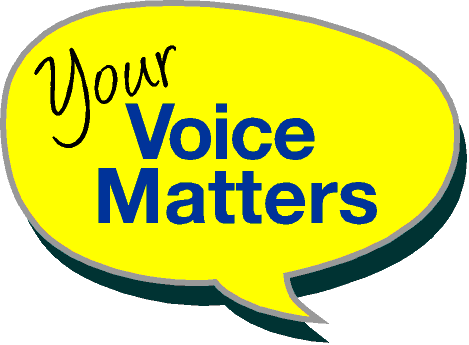 Promoting Care with Dignity and Respect
Please note Your Voice Matters is an information source only via this web site. The campaign ceased to operate in 2018

Money, power and fear rule our care sector. Profit v care. Who wins?
THE PRIVATISATION OF THE CARE INDUSTRY; ITS OWN NEMESIS
Written by Ian Cresswell
Your Voice Matters

1 September 2015
The enactment of the NHS and Community Care Act 1990 was the final step of that had been nearly 10 years of working through a way to take funding of social care away from the NHS and place it onto the service user via local authority/social service interaction.
From the start of the early 80's Margaret Thatcher's Conservative government had been working with healthcare and health insurance advisers from the United States on the ultimate plan to privatise the NHS. The privatisation of the care industry was the introduction to this gradual scheme.

The title of 'Community Care' was a misnomer in itself, in as much as it did not necessarily mean that service users would remain in their communities i.e. in their own homes but would be packed off to care homes, but this was always the intention.

In the past the elderly had been kept either in long term hospital wings or local authority run care homes and units, all of which was funded by government via the NHS or local authority/social services. It was introduced to save costs to the NHS, the NHS and Community Care Act 1990, and was a betrayal of the principles of the National Health Service Act 1946. In effect it created an artificial division between medical health care and social care which was regarded in the 1946 Act as all part of treatment/care.

Thus began the socialisation of medical conditions such as dementia, to push them into the domain of social service enactments, forcing service users to pay for their own care.

The creation of the NHS and Community Care Act 1990 was the start of the period known as the 'Golden Age' of the care industry and this continued till around 1998. This was a period when more and more providers came into the industry large and small.

The small providers were encouraged by the rosy prospects of a good means of income and investment/speculation. The larger nationwide providers; Southern Cross, Four Seasons Healthcare came into being and started acquiring more and more homes. This too was beneficial for the small providers, because it gave them grounds for considering that buying a care home was a good solid investment that they could sell on a larger provider for big money.

There isn't anything wrong with any of this, it is a part of business. What is wrong however, is when the motivation becomes money orientated rather than care orientated. In those early golden years many of the providers came in and operated with good intent; it was about care and not just money.

The large operators were getting too big and were buying up everything they could get hold off. Fine when times are good and the market is stable, which it was in these early years but nothing in economics ever remains stable, everything is highs and lows.

The modus of economic operation was also an unfortunate choice being that of an economic system known as a 'Market Driven Economy', which has got many serious flaws in its theory and operation. From the very beginning economists held grave doubts about the premises of a care system operated in this manner linked to government policy of restructured funding and commissioning and how this would impact on the standards of quality care.

Towards the end of the century however, a change was beginning to appear.

Southern Cross was set up in 1996 by a businessman named John Moreton, who had already made a fortune from the great gas fields boom in the 80's, in the Thatcher years of economic upturn while he was still young. Moreton started his new business venture during these last years of what was to be the golden age of the care industry and at the time of a great shake up in the industry around the turn of the century, when government funding cutbacks and tougher care standards began to force care homes to close down completely or to be sold off cheaply. Southern Cross quickly benefited from these factors and the period of rapid expansion began.

The next phase was upon the industry and was in itself the beginning of its own nemesis; venture capitalists and equity. Around 2002 the company had become a significant player in the industry and this attracted venture capital firm
WestLB to step in and buy Southern Cross for £80m. This acted as a signal for investors of all types to move in. At this period of time, the feeling in the City was that it was a consolidated market and seemed the perfect area for large and small investments alike.

"US private equity firm Blackstone swooped, paying £162m for the company, which by this time had 162 care homes. Blackstone made its ambitions clear from the start, pledging to turn Southern Cross into "the leading company in the elderly care market". Graham Wearden, The Guardian

Problem was, Southern Cross didn't own its own care homes only the care side; the homes were owned by NHP in the main, with one or two other smaller landlords. Almost the first thing that Blackstone boss Stephen Sachman did was to buy NHP in a £1.1b deal, which also increased the number of homes Southern Cross owned by another 192 leased homes.

"Further acquisitions followed that turned Southern Cross into the largest care home provider in the UK. NHP was sold off in March 2006, followed by a flotation of Southern Cross on the London stock market that summer."
Graham Wearden, The Guardian

Blackstone sold its last stake in the company in March 2007. Sachman made in the region of £35m on the selling of Southern Cross. For a limited time it seemed to be doing well, but …

"Then, in the summer of 2008, the tale turned desperately sour when Southern Cross and its remaining Directors, its expansion strategy was derailed by the financial crisis. The company had been buying properties then selling them on again, while keeping a long-term lease. In those heady days before the collapse of Lehman Brothers, Southern Cross suddenly found itself unable to meet a £43m loan repayment deadline, because it could not find buyers for its property assets. In another blow it warned the city that disappointing occupancy levels meant its earnings would not meet expectations." Graham Wearden, The Guardian June 2011 Click HERE

In effect Southern Cross had created a subprime situation exactly similar to that which brought down Lehman Brothers in the United States and signalled the start of the great depression. They owed money they could not pay back. These were warning signs that the care industry was becoming ever increasingly unstable. The wrong type of people were now involved in the funding and running of it. People who had no good intent; no interest in the care and life quality of its service users; no interest in those it employed; nothing other than the making of more and more excess profit, and buying more and more properties that couldn't be sustained, when the down turn set in and the other dominant factors such as cut backs by local authorities started to really kick in.

From detailed research that I have undertaken, one can see definite patterns of this change in the owners of care homes. From around 2004 more and more venture capitalists became involved buying up smaller companies involving between one and six care homes. Amongst these buyers there were some who clearly set out to milk the businesses then dissolve them and start up again repeating the same pattern over and over again. I have found many examples of just this, amongst these an alarming number of Indian and Pakistani care home providers.

All of the big care providers with the exception of BUPA are caught in the trap of Southern Cross.

BUPA is different and while it does have a high current liability figure, it also has a very high level of current assets. It also doesn't have to please shareholders because it isn't a limited company. In theory this should be good because all profits can be put back into the company and improve the quality of the services therefore provided. Alas this isn't what's happening at BUPA. The money is being filtered away from its care homes and is being put into other areas of BUPA's ever increasing worldwide expansion of markets. Since around 1997 BUPA have operated a deliberate policy of underfunding its care homes with the result it currently has around 100 care homes currently failing.

Marianna Fotaki, Economist, Manchester Business School and London School of Economics and Political Science writes on "What the NHS can learn from the markets of social care".

"First the introduction of competition in order to reduce costs has had a negative impact on the quality of care. A market in social care was introduced, in part, as a way of keeping the costs of state-funded social care under control. However, by restricting the funding available to local authorities to provide care services at a time of increased need, successive governments have forced local authorities to award contracts to the lowest-cost operators in the independent sector without sufficient concern for quality. In many instances, this has driven down the quality of care to the 'minimum quality level allowed'. Indeed the current Care Minister Norman lamb, has acknowledged that the current system incentivises poor care, low wages and neglect, often acting with little regard for the people it is supposed to be looking after."

"Second, the pressure of the competitive market has led to the de-professionalisation and casualisation of the social care workforce. The marketisation in social care services over the past two decades has had a significant impact on the social care workforce. Social care workers often receive pay below the minimum wage and a significant proportion - more than half of all care home workers according to one piece of research are operating on 'zero hours contracts'. The estimated 1.4 million care workers in England are unregulated by any professional body and, according to Skills for Care, fewer than half have completed a basic NVQ2 level qualification. 30% have apparently not even completed any basic induction training."

"From the perspective of care providers seeking to keep costs down in a competitive market, leads to reducing the terms and conditions of the workforce whilst expecting them to take on more complex tasks is a logical response."

"Third, failure of care providers is an inevitable consequence of any care market with significant impact for patients and service users. The experience of social care markets in England is that care home providers go out of business with alarming regularity. Nearly 1400 care homes closed in England between 2003 and 2010, often with less than 4 weeks-notice. The harmful, yet remarkably unreported effects this has had on the residents of care homes and their families, is a central lesson from the operation of social care markets. Again, one of the chief factors forcing care homes out of business is the squeeze placed on the fees paid to them by local authorities seeking to keep costs down. Since the social care market has also witnessed a significant consolidation, particularly in residential care services (with 20 companies now owning 30% of all care home beds) the effects of such collapse are all the greater. This degree of consolidation and the highly complex financial arrangements underpinning the care home sector has started to worry the government, particularly following the collapse in 2011 of Southern Cross, which owned 31,000 beds. Indeed the heavy indebtedness of many of these large providers suggests according to the governments impact assessment for the Care Bill, that six of them could be expected to collapse at some point in the next 10 years."
Marianna Fotaki London School of Economics and Political Science Click HERE to read full article.

Some very important comments by Marianna Fotaki, but still I suspect falling on deaf hears within the care industry. Marianna regards the reduction by Local Authorities of care fees paid to care home providers as being a chief factor.

While I agree it is indeed an important factor, to me the major factor has to be the high levels of debt carried by care home providers large and small.

The debt is mainly in the form of loans. Borrowing money in the form of loans can be of two types, positive and expansive or negative, trying to remain in business. In the positive expansion category, there can be negativity if the provider doesn't actually have the means to pay for the expansion in the first place, and critically important if the provider doesn't really have the means to pay it back. This debt becomes a millstone around the providers neck with all of the severe consequences that it causes with the inevitable loss of quality of care and the ever more greater risk of neglect and abuse occurring.

These levels of debt by borrowing can so easily get out of hand and not always by circumstances controlled by the provider. So very often what occurs is that the business is being operated purely to pay off the interest on the original loan, then on the re-financed loan and interest. Inevitably going into administration is the ultimate result. These debts are it is fair to be said toxic in their nature and I feel are no different from the American sub-prime property debts that was a major cause of the 2008 great financial crash. Banks are sustaining the care home industry with loans of money that in many cases cannot be paid back.

One of the projections of cost to the care industry of the compulsory Living Wage, stated that there was about £1b shortfall, and the great risk of a meltdown in the industry as a result. The care industry expects Government to cough up this money so that local authorities can pay them a figure the care home providers are demanding, forgetting one thing - the true figure of debt that the care home industry actually owes? Figures range from £2-6b, the higher figures are likely to be nearer the true figure.
That's over £4b already. This debt as got NOTHING to do with shortfalls from local authorities.
The care industry as it now stands is nearly unsustainable because of the way it is being funded, and by the operational method of economics being employed.
Thus the market driven economy has become the nemesis of the care industry.
Marianna Fotaki was a true economic prophet, a real voice in the wilderness, but what she wrote in this LSE article and also in the 'Future of the NHS' are becoming a reality. Her remarks about there being six major care home providers going under within ten years may have seemed at the time like just another statement of doom and gloom.

It IS going to happen make no mistake about it.In my opinion it will be Four Seasons Healthcare that will go. The other day we posted onto Your Voice Matters facebook page a press article written by Juliette Garside. Quotes:

FOUR SEASONS HEALTHCARE REVIEWS FINANCES AMID DEBT FEAR

"Four Seasons Healthcare, Britain's biggest care home operator, has launched a financial review after second-quarter losses surged to £26m, raising fresh fears over the indebted group's viability."
"Owned by Terra Firma, the buyout firm controlled by Guernsey-based financier Guy Hands, Four Seasons is paying more than £50m a year in interest on debts of £500m. But its earnings before interest, tax and other charges were just £51.5m in the last 12 months, according to the latest accounts."

"Losses rose to £26m in the three months to the end of June, from £17m in the same period last year."


"In the spotlight: Four Seasons Health Care and Britain's social care crisis".

"Green of Care England is also upbeat: "I am not worried about Four Seasons because I have confidence in the board and non-executive team and I believe they have a clear vision for the organisation and have a long term strategy to secure its future". Ravender Sembhy International Business Times, 6 May 2013 Click HERE

"Underlying earnings before debt interest payments, tax and other charges-increased from £9.7m in the first quarter of 2015 to £11m in the second quarter. However, they are still down from last year's second quarter total of £17.5m. The group which runs 450 care homes as well as 50 specialist care units in hospitals, set out plans to conserve its cash. While maintenance budgets are protected, refurbishments and extensions are being delayed and loss making homes are being sold." Juliette Garside, The Guardian Sunday 30 August 2015 Click HERE

The situation is now critical. Already we have heard of three Four Seasons are homes in South Shields in the north-east of England; the Lodges Residential care home, Chichester Court care home, South Shields and Meadow care home, in Bolden that the company is reviewing its operations there to see if it can continue.
The Shields Gazette 1 September 2015 Click HERE

The Shields Report "They joined Bupa UK, HC-One, Care UK and Barchester, in penning a letter to Chancellor George Osborne warning the extra costs could lead to home closures."
"I am writing to express my support for your decision to develop a national living wage, but also to warn you of some of the unintended consequences this might have for the care sector and the NHS."

"Care providers are receiving totally inadequate levels of funding from local authorities, in some areas this amounts to as little as £2.80 per hour, for residential care to some of the most vulnerable older people."

"In recent years, the sector has received either below inflation rate increases, or no increase at all, and it is not possible to deliver much more, unless we have a proper funding settlement from the local authorities."

This article gives the almost mantra like chant of it's because of the compulsory Living Wage by management and company itself, but really this is very misleading bordering on nonsense.

I am not saying the introduction of the Living Wage won't add extra financial cost to care providers, because clearly it will, but in Four Seasons case this isn't the case at all. There are going to be a lot of their homes going out of business and being sold off true enough, but the reason is very clear now why. Borrowed money debt and subprime debt. They haven't got enough now to pay the interest let along the £500m debt. They will be paying interest on interest, a deadly end game. They can't continue in this fashion much longer. When Guy Hands and Terra Firma bought Four Seasons and their debt the figure was £850m, a dangerous high risk gamble.
I don't know how much interest there is on top of the £500m, but it will amount to a lot of extra money. What is very clear is the high rate of inspection failure involving their care homes, a high incidence of persistent repeat inspection failures. The standards of high quality care has gone down throughout their care home empire. We are seeing the same names coming up time and time again, new ones are occurring as the care group seems to be in melt down.

Who will buy these homes to try to keep Four Seasons afloat?

Interesting to see the Ian Smith of Four Seasons is an 'Influential Speaker at the Care England Conference November 2015. Click HERE.

It's going to be even harder than it was with Southern Cross in 2011. The market was still seen as an investment one; it can't be said to be now. Money is tight everywhere.

All the big care providers except BUPA are just as badly in debt. Small providers may buy some homes; but many of them are hitting financial trouble.

Predictable worrying times ahead. How many more care home groups will be gradually added to the list we have named above?

Profit v Care. Who wins?

4 September 2015 Four Seasons Healthcare - The Birds of Prey are Gathering. Click HERE to read press release.
6 September 2015 Four Seasons Healtchare - Some Interesting Members on their Board. Ben Taberner also has connections to a Cheshire Based property company called Property Revivals.

Ben Taberner Chief Financial Officer and Director
Nick Mitchell Finance Director and Director
Ian Smith Ph.D. Chairman of the Board
Stefan Sanne Vice Chairman The Goldman Sachs Group, Inc.
Hamilton Anstead Member of the Board of Directors Four Seasons Health Care Limited
Graeme Willis Member of the Board of Directors Four Seasons Health Care Limited
Tony Heywood Member of the Board of Directors Westminster Healthcare Holdings Ltd.
Arjan Breure Member of the Board of Directors Deutsche Annington Immobilien SE
Lorenzo Levi Member of the Board of DirectorsApollo Global Management, LLC
TERRA FIRMA'S FOUR SEASONS BONDS SLIDE AFTER MOODY'S RATING CUT

10 September 2015 "Bonds of Four Seasons Health Care Ltd., the care-home operator owned by Guy Hands' Terra Firma Capital Partners, fell to a record low after being downgraded three levels by Moody's Investors Service."
Click HERE

FOUR SEASONS HEALTHCARE SHORTLISTED FOR DEMENTIA FRIENDLY AWARDS NI 2015

"The Four Seasons dementia services team in Northern Ireland/Wales are finalists in the Dementia Friendly Awards NI 2015. These awards celebrate the incredible achievements communities have made in becoming dementia- friendly."
Click HERE

NURSING HOMES TO CLOSE – THE ELDERLY TO BE THROWN ONTO THE STREETS - by Lenin Nightingale

1 October 2015 "Shamefully the response of unions like the GMB has been to back the privateers' call for 'emergency funding' to bail out these companies." "what exactly is your master plan for 'unprofitable homes'?"

"NATIONALISE ALL NURSING HOMES THAT ARE PAID FOR BY LOCAL COUNCIL FUNDING." Click HERE to read full article

Remember 2014? 'Prisoners of Care Homes' Devastating report reveals tens of thousands of elderly and vulnerable people locked up against their will. Care homes used to be cheaper alternative to home care, yet now homecare is the way forward we are told. Click HERE

Four Seasons Healthcare £.5b
Barchester Healthcare collective debt is around £1.5b
NHP Property Company which set up HC-One £1.8b
CEO Tim Hammond previous worked as Managing Director for Barchester Healthcare. Click HERE
Martin Green, Chief Executive of Care England was not so concerned back in 2015 when he said "I am not worried about Four Seasons because I have confidence in the board and non-executive team and I believe they have a clear vision for the organisation and have a long term strategy to secure its future". Click HERE

Now he has this to say: