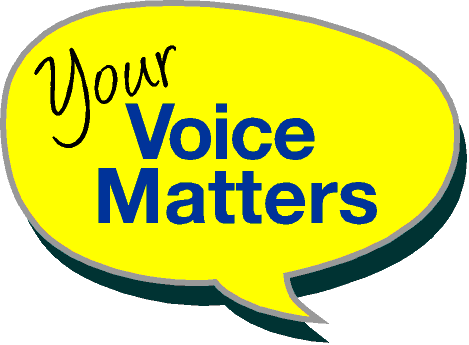 Promoting Care with Dignity and Respect
Please note Your Voice Matters is an information source only via this web site. The campaign ceased to operate in 2018

Meet The Team - Jenny Moore
Please watch my unrehearsed, from the heart video blog July 2017, which will explain why my campaign journey had to come to an end. Click HERE to watch.

This is my story. You can read about my 2 years of meeting Health Ministers and other politicians at Westminster, national TV/radio interviews, naming and shaming of care companies who fail residents, bully and victimise families and care staff, and lots of other valuable information to assist you with your own journey - whether that be as a family member, a member or staff or a campaigner. I have a kind donor who funds my web site to stay online - to help you.

I could literally write a book on my family's care home journey since it began in 2009.

Here are a few examples of what we experienced in our search for good Dementia care for our loved ones. It is important to help families understand how situations can be manipulated, and that it is not their fault.

In July 2010 I found myself banned from visiting my Mother-in-law who has dementia. She lived in Trevarna Care Home owned by Cornwall Care Ltd.
This happened only a few months after her devoted husband of 50 years had died. Dementia made this even more difficult for her to comprehend what had happened and she needed her family more than ever. My husband had peace of mind that my visits would support his Mum, and I would ensure her needs were being met. It was one less thing for him to worry about after the loss of his Father and best friend.

We were her only visitors. I visited daily, with her then 3 year old grandson, actively involving ourselves in her daily life. We would stay for hours, interacting with most of the residents, who adored seeing our son.

I am sure many families can relate to the feeling of 'the more you visit, the more you see'. I witnessed failings and continued to report them as they were not being resolved. I began by quietly speaking to staff, not wanting to make a fuss or get them into trouble. Nothing changed. I then took my concerns up the layers of hierachy after each attempt failed to resolve anything.
I was then labelled a 'Habitual and Vexatious Complainant' because I repeated the same concerns. Only a week after a regular care review meeting at the home, where no issues were raised by the manager, and positive comments were recorded in the care notes about my visits. I found myself called in at short notice for a meeting. I had no idea what this was about, and foolishly went alone. At this meeting there was a senior manager of Cornwall Care, the home Manager Maria Dent and a minute taker.

I was banned for a minimum of 12 months. I was told staff had complained about me, that I distressed them, the residents and my Mother-in-law. I asked for the staff to be brought into the meeting, they refused.

Little did I know it would take 3 years to lift this Ban. I was told every time I visited I had something to complain about. Maybe if concerns had been addressed, I would not have had to keep repeating them. Somehow this had now become all my fault.

Our complaints were not out of the ordinary, unrealistic or unreasonable expectations. For my relative's commode to be emptied, for her pads to be changed regularly, for her to be wearing her own clothing, to have her shoes on the right feet, for personal hygiene to be maintained. Why should that be so difficult to achieve?

For 3 years my Mum-in-law was not able to attend school plays, sports days, or see her grandsons frequently. Access to her family was now restricted to just one evening visit during the week, and a weekend visit from my husband, when he would bring her back to our family home. That was my only contact. She needed support from her whole family more than ever at this time. It was devastating for us all. These are the memories that will remain with us forever.

I made several requests to Cornwall Care under the Freedom of Information Act for all documentation relating to me. They ignored those requests. It took the involvement of the ICO (Click HERE for web site) to obtain those documents.

It was only after 3 years, when I received the requested information that I discovered Cornwall Care had raised a Safeguarding Alert on me. Neither the reasons or the details were given. I read copies of minutes of meetings I had never seen, which were inaccurate and those contents being used against me. I also read their reply to the Local Government Ombudsman stating they had informed my husband that if he brought his Mum to our home, I should go out for her own safety. Cornwall Council also confirmed that Cornwall Care had raised serious concerns about her safety in my presence. First we had heard of it! We regularly brought her to our home with no concern shown by staff at the care home, and in fact during the Ban, Cornwall Care had actually telephoned our home asking if I could escort my Mum-in-law to a medical appointment! It was only after reading this information, that I realised that quite clearly, serious allegations had been made against me.

To this day I have never been allowed to see the alleged damning Witness Statements I am told were written by staff at Trevarna Care Home. Why? Because the Data Protection Act protects their identity.

Our belief remains that they wanted to keep me out of the care home to prevent me from seeing their failings and reporting it. It is very easy for private care homes to do this to self funding residents. There is no protection.

I was accused, found guilty, sentenced, and punished without any knowledge of my crime, and have never been able to clear my name. I know that will never be possible, but what I can do is share my experience to help families be more aware of what can happen, and to help prevent them becoming a victim of the system.

Little did I know that 5 years on I would learn of another family member who was in conflict with Trevarna Care Home at the same time, as well as an ex-employee fighting for justice. I also learned of others in other care homes run by Cornwall Care who were also fighting. So many lives affected, such a trail of devastation.

Prior to this, in our search for good dementia care, my relatives had lived in three care homes run by different providers, all with issues. Brake Manor, St Austell (Morleigh Group), Elmsleigh, Par (now Morleigh Group) and Trecarrel, Tywardreath (Cornwallis Care).
My relatives were evicted from Elmsleigh, this was before it was taken over by the renowned Morleigh Group, that I later went on to expose in a Panorama programme. The reason for the eviction? My husband who had Power of Attorney opened some mail addressed to his father. We had to pay to see our Solicitor to obtain a letter to prove he was allowed to open his mail. On receipt of this letter the Manager said we were impossible to work with and gave us 7 days notice to find a new care home. Social Services were shocked, saying it was outrageous, but when it came to the CQC to visit this care home, no one from the Local Authority or NHS said they had any issues.

I went on to meet Ian Biggs of the Care Quality Commission, who came to Cornwall to discuss this. I never heard from him again. The only time I saw Ian Biggs was on TV interviews where he said the CQC could not deal with concerns if people would not share them with his organisation!
I was so disillusioned by our experiences, I set up a campaign to raise awareness. Originally this was for an opportunity to tell my story and to try to get justice for what had happened to me and my family. As time went on, it became very clear that my situation was far from unique.
Families all over the UK were finding themselves bullied by care providers, many of them being banned from visiting their loved ones. Lives were literally being destroyed, families torn apart.
It became clear there were many unsupported and exploited care staff desperate to deliver good care, yet finding themselves being bullied, scared to report their concerns.
The extent of the cover up culture in our care home sector, and the reality of how much power and fear govern it, became very apparent. I found this alarming, but also comforting and reassuring to know that I was not alone.

This was no longer a fight for our family, this was a fight for everyone whose lives were being destroyed by the lies and coverups in the elderly care system. I decided my efforts now had to be focused on the big picture, not the individual fight with Cornwall Care. If we could influence positive sustainable change, that would impact on many.
ITV Daybreak March 2013 - Whistleblowing Feature
​
​
​
​
​
​
​
​
​
​
​
​
​
I could not believe I had the opportunity to speak on National TV on the Daybreak programme, to be a voice for the many who were voiceless. Reality was I failed.

I was in effect, gagged from telling my story, told I not allowed to use the words 'neglect', 'abuse', where I lived, or the name of the care provider, yet the care provider had a right to reply. My story and in particular the conclusion, was totally misrepresented. I was not brave enough to speak out in fear of never being invited on again. Now I regret that, as I know it would have made no difference. The national media have their preferred interviewees. The power of the media, and the reality of 'celebrity campaigners' really hit home to me that day, and I realised it would be very hard to trust again.

The long fight and stress caused me to develop a chronic pain condition and influenced my decision to leave Cornwall, and in 2014 I uprooted my whole family to start a new life. Little did I realise, the standards of care homes were going to be no better. Same battles, different place.

My relative died in Barchester care home, Mount Tryon, Torquay in March 2017. Her only release from neglect was in death.

Between August 2014 and early 2016 she was admitted to hospital dehydrated. My constant reporting of Mount Tryon to CQC resulted in this Good Rated care home being rated Inadequate, resulting in being placed in Special Measures, yet the standards were no different to when we moved in.

In 2016 Barchester wrote to me, placing conditions on my visiting, with threats to ban me if I broke those conditions. It coincided with my making a safeguarding on another resident who was at risk. I know what I witnessed on a night shift and I would guess the incident report did not state the true facts, identifying me as the reason for an accident. I will never know.

For many months I did not visit, which was heartbreaking, but I knew that when it came to the end my husband would need me to have access to the home and I could not risk them setting me up to ban me, which is what I suspected, as did others connected to the home. I did not want the stress of us having to fight for me to gain access at the end of her life. I had saved her life once in 2016 and for what? Another year of poor care. I informed CQC I was not visiting as it was unbearable knowing that no one was acting on information I gave them. I could no longer bear to see the failings and being powerless to stop it.

Reflecting on this journey, it is very clear that our experiences of the care sector in Cornwall not only affected peoples' attitudes towards me, but also our children, from other parents and general public. Never underestimate the devastation that can be caused to whole families by ruthless care providers, especially if you live in a close network community.
​
When we hear stories of whistle blowers in the media, more often than not the story will refer to an employee. We must not forget that families whistle blow too and also make huge sacrifices to do so. Families need to be acknowledged.
​
Click HERE to watch my 15 min presentation at Turn up the Volume Conference.
​
​
​
​
​
​
​
​

2009-2017 two counties, five care homes, failed to find one dementia nursing home that delivered good person centred Dementia care, even ones who fly the Purple Angel flag and a Relatives and Residents Association poster were a sham. Kite Marks are not trustworthy.

To look for good care is a relentless search, causing stress and upset for families who are 'Living with Dementia'. 'Needle in a haystack' springs to mind. Why should families have to be forced to pick the best of a bad lot?

By sharing some of my experiences, families and care staff who visit this web site will know that we here at Your Voice Matters, understand the journey you are on and we hope that we can make you feel less isolated and unsupported.

I met with senior CQC Managers since 2010, with more regular meetings throughout 2016. Myself and my colleague spent a lot of time supplying them with information from the inside, yet it was much easier for the CQC to not speak of this, and portray us as an enemy of their organisation. If people began to question that were right, then they would have had a big problem on their hands.

In 2015 I began to meet Ministers, presenting evidence of neglect and abuse in elderly care homes, discussing with them the shocking failings in elderly care, without glossing over the harsh reality. A lot of work happened behind the scenes at Your Voice Matters. Much more than people observed online.

Summer 2016 we launched Rights 2 Speak Up 4 Care, to finally end unfair Bans, Evictions and Restricted Visits and in January 2017 held our first Parliamentary event on this issue Click HERE. The Minister and other senior Politicians seemed to have no issue on the day with our proposals, saying our request to amend the Human Rights Act was quick and relatively simple to do. Sadly a few months on, we were told 'No'. This was the moment I understood this was not a war that could be won, there were far too powerful influences at play. Petitions, protests, campaigning, all designed to weaken and break those who care who dare to speak the truth and try to bring change.

Our vulnerable, deserve so much more than this. We should be able to enjoy our final years with our loved ones, with the peace of mind that we have done our best for them. Yet, families are now expected to in effect 'police' care homes, because no one in power will tackle this toxic cover-up culture, even though it is their job.

We need an end to the PR hype surrounding the private care home sector and end once and for all their reign of terror over innocent people, families and staff. One day it could be you or someone you love, no one is immune.

​
Jenny
Click HERE to watch interview

No accountability ever achieved. Another care home provider, another family. The list has innocent families wrongly labelled by the sector continues to grow to epidemic levels.