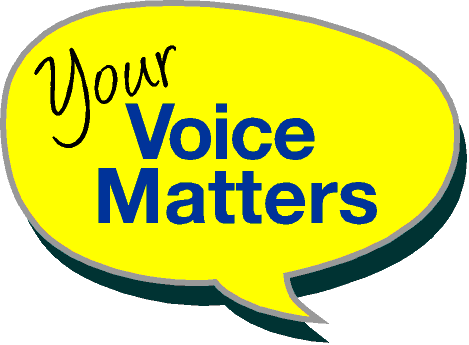 Promoting Care with Dignity and Respect
Please note Your Voice Matters is an information source only via this web site. The campaign ceased to operate in 2018

No More Guidelines.
Why We Need Legislation for Overt Surveillance In All Care Homes
"Please Help Keep Me Safe"
In 2014 the CQC launched guidelines to advise families on secret filming in care homes (covert surveillance).
Your Voice Matters have never supported covert surveillance. To introduce these pretty useless guidelines will do nothing but create an even larger divide between care home providers and families.

As we predicted, care homes are aware families are resorting to these measures, using clocks, radios, air freshners etc. We have had reports in of providers searching residents' bedrooms.

Transparency, openness, honesty, trust are things lacking in our care home sector and to encourage secret filming is adding fuel to the fire. We want to see an open and honest culture in our care homes, where care home Managers and staff welcome families and want them to be involved, as it should be. We want visual surveillance equipment (overt), so everyone knows they are there - staff, residents and families.
We are not using the word 'cameras' in our title for this page, surveillance encompasses all forms of monitoring. Cameras promotes the idea of visual 'Big Brother' watching your every move. There are many ways you can monitor safety, audio for one.
WARNING - Links in following section will direct you to press releases you may find distressing.

However, as painful as it may be, we feel it is important that people understand why campaigns like Your Voice Matters are needed.

There are numerous press releases to prove why we need surveillance in care homes. Here is a small selection:

2015 Carer 'abused and humiliated' dementia patients. BUPA Greenfield Nursing Home Click HERE

2015 Female carers' naked pictures shame: Women sent rude snaps to colleagues at Scots care firm Active Care. Click HERE

2015 Care worker Christina Sethi jailed for 10 years for filming herself sexually abusing residents in a Devon care home, one was 101 years old. She sent the footage to her boyfriend. Click HERE

2014 Carer Daniel Baynes jailed. Gladys Wright lived at The Granary Care Home, Somerset. She was pushed, shoved and pulled on a number of occasions, while subjected to a tirade of verbal abuse. Caught on secret camera installed by family. Click HERE

2014 Atlast Project Ltd. Twenty two members of staff at three Devon care homes have appeared in court accused of abusing vulnerable residents and keeping them prisoner. Click HERE.
2014 Highpoint Care. Colliers Croft Care Home, Haydock. Care worker Derek Rigby jailed after admitting sneaking into the room of an elderly resident with dementia in order to fondle her breasts. Click HERE

2014 Keldgate Manor Estates Ltd. Freda Jobson degraded by care home staff. Caught by family's secret camera.
Click HERE "There's a sign on the door of the home that states, "Dignity, Respect and Care". But where was the dignity, respect and care for my 84-year-old mother?" Once again it is proven, displayed signage means nothing.
2013 Cornwallis Care Services Nursing Home, Cornwall. Care worker Fiona Salmon jailed after abusing elderly vulnerable people by sitting on them. Click HERE
2012 Denestar Ltd, Oakfross House, Pontefract. Care worker Stephen Murray jailed after subjecting Ivy Robinson to abuse in her care home. Caught by family's secret camera. Click HERE

2012 Little Acorns Care Home, Eastbourne. Two care home assistants Becky Cooper and Natalie Hemsley were suspended from duty and social services called in after they posted pictures on Facebook mocking elderly residents. Click HERE
2012 Lanarkshire Care Home. Care home worker Stephen Murray jailed after raping a 65-year-old woman and sexually abused two more Alzheimer's sufferers aged 74 and 84. Click HERE

Make no mistake, filming of abuse has already happened, with staff using their mobile phones. Here is just one example in a Bupa care home, press release December 2010.

"They were elderly, suffering from advanced Alzheimer's Disease and needed the best possible care at their Bupa nursing home. Instead the frail residents were bullied, assaulted and terrorised by care workers who recorded their 'despicable' behaviour on their mobile". Click HERE
In July 2015 We were concerned to read about new 'tool' for care staff. A mobile phone APP 'Keys To Care' which has been set up by the Relatives and Residents Association.

"The R&RA found care workers were in need of easily accessible training support, particularly in residential care but also, increasingly, in home settings."

"Judy Downey, chair of R&RA said: "We are very proud to launch the Keys to Care app and believe it will provide the essential backup to the kind of care that older people across the country should expect and they and their families should demand." Click HERE
"The Keys cover 12 topics. These are The Care Plan, Care at Night, Continence Care, Daily Life, Dementia, Eating & Drinking, Emergencies, End of Life Care, Family & Friends, Listening & Talking, Mouth & Teeth Care and Privacy & Choice."

Shouldn't anyone working in a care setting, responsible for the health of vulnerable people not already have these skills? Surely the quality of training is what needs to be addressed?

Your Voice Matters do not welcome a scheme that encourages the use of a mobile phone whilst on duty for the reasons listed on this page and also the fact that some situations need immediate action, without the distraction and time delay whilst a care worker consults their mobile phone.


Surely any one who genuinally cares for our most vulnerable would want to do all they could to help prevent such horrific things? Surveillance will stamp out all abuse, but it will be a vital tool in the box to help prevent it. We welcome PREVENTATIVE measures rather than reactive, when it comes to vulnerable people being at risk of harm.