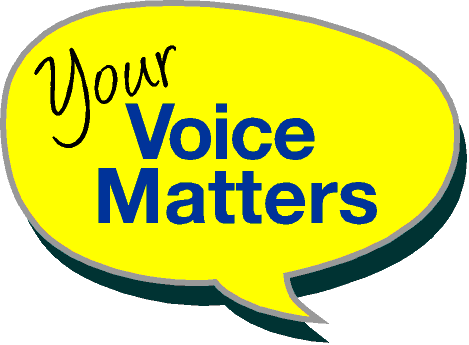 Promoting Care with Dignity and Respect
Please note Your Voice Matters is an information source only via this web site. The campaign ceased to operate in 2018

The best piece of advice we can give, is to conduct your
own research.
Care homes are a business and should be treated as such. The customer? The resident. The product? Care?

We wish the Trade Description Act covered care home advertising, like any other business. There is no sure way of knowing if a care home will deliver what it 'says on the label' until your loved one has moved in. Some care homes employ PR and Marketing experts to design their web site to entice families to choose their provision, which will include cleverly staged imagery. They want to operate at full capacity and need to make their 'product' attractive to potential customers - YOU.

Here is one example from the web site of a large care provider "The home even has a cinema so residents can watch their favourite movies, a coffee shop ... for relaxing or doing activities, including a library, lounges and an arts and crafts room. ... It feels like a hotel, although it's a purpose-built care home." We have researched some new care homes that are being packaged as a hotel concept, they are FAILING.

We cannot stress strongly enough .... you must look beyond the hard sell.

What we need are a new revolution of smaller care homes, 30 capacity maximum, with a good ratio of quality trained staff who are paid a salary to reflect the demanding job they do.

Your Voice Matters do not consider care villages anything other than profiteering enterprises. Nothing any different to what we have now with regards to standards of care, they are just larger with more fancy trimmings to lure new clients.

For many families there will come a time when your loved one is no longer able to live in their own home, or in an Assisted Living Setting. They may now need 24 hour specialised care and you find yourself in the position where you need to explore what options are available to you. This can be a difficult time for many, many tears, much soul searching and sleepless nights.

There are certain things you can do to minimise the risk of failure:
* Visit the Regulator's web site to read the most recent Inspection Report on the care home, but do not
only read the most recent, it is important to read all available previous Reports, as these can highlight many
things such as repeated areas of failures, changes in management, medication and training issues.
You can find links to their web sites on our Regulator page.

You will read quotes from residents, families and staff. From our experience, these quotes cannot be relied
upon. We have expressed our concerns to the Regulator, as they are personal opinion, not fact. We
consider this to be misleading, even if well intended.

Bear in mind Inspection Reports are just that, a Report on what the Inspector witnessed on the day. They do
not dig deep in order to investigate and uncover the truth. Even if someone has reported concerns to them, if
they do not see it on the day it will not be included in that Report. As a campaign we have known this to be the
case. Our personal view is Inspectors are Reporters not Investigators, and more often than not it is an investigative
mind that is required.

* Visit the Local Government Ombudman web site Click HERE, where you can find complaints lodged against care
homes and outcomes. In Scotland however, this information is shown on the Regulator's Inspection Report.
Unsure why this cannot be the case for England.

* Read online care review sites with caution. Bear in mind care providers often pay to register on these sites which leads us to question how independent they actually are. Reviews are often filtered, and we know of negative review that were never pubished. You cannot know for sure if glowing reviews are genuine and a reminder that they are personal opinions, which may differ from your own expectations of 'good' care. We would like to see
some form of Regulation for care review sites.

On 25 August 2015 we read an article on twitter, written by Spring UP PR "Care home PR + marketing secrets revealed! Every UK care home must read this". Adam James explains why care homes need to promote a positive image to prospective 'clients'. He goes on to send a tweet saying "@carehome_co_uk "thanks for re-tweet. You probably noticed it was all about you!" They respond "Thank you so much for the post."

'Care Home PR - Secrets Revealed'

Whilst carehome.co.uk did not write this article themselves, we are surprised they are happy to be associated with it. A good example to demonstrate what an important part PR plays in our world of care.

Choosing care is a time when families themselves are vulnerable. They need factual, honest and reliable guidance, yet they continue to be viewed as gullible by the sector. What makes it worse is the care sector do not oppose it, they
welcome it. To us, this makes them just as guilty as the PR company who wrote it.

Whilst we know that it is obviously important for a care home to run at capacity in order to be financially
sustainable, we thought the whole purpose of a care home review site was to assist families in making informed
decisions based on factual information? Click HERE to read full article

Here's a taster .....

"Never before has it been so absolutely vital for your care home's listing on carehome.co.uk to be super-charged with 'good news' stories. carehome.co.uk now produces a STAGGERING number of sales leads and valuable traffic to care homes."

"So, you've got to ensure you're sourcing and writing up your home's 'good news' stories at a super-fast rate. If you've not produced at least one 'good news' story about your care home over the last month you must speed up."

"So write up those 'good news stories' now. Even better if you can get eye-catching photos to go with it. Get it right and EVERY single piece of 'good news' you produce has a FIVE-FOLD PR and marketing value:"

"A positive story for your carehome.co.uk listing [Remember, prospect customers visit carehome.co.uk in their hordes!]"

"A piece of social media engagement – Facebook, in particular [families of residents are your most valuable
Evangalists].
Q: What is an Evangelist? - You apparently!

A: "An Evangelist is someone who proclaims good news; in other words,
a preacher of the gospel or a missionary"

Care homes are not so keen for you to spread the news if you witness
bad care when you visit your loved one. Why are you not given the same
consideration then?

Is it because they now have your monthly fee being paid? They no longer need to lure you. If you then try to 'preach' not such good news, they use their power and may Ban you!
"News story submission for leading care home news website 'Care Industry News' [useful for SEO]"
The more we learn, the more we realise that the care 'Establishments' main aim seems to be working for care homes as PR machines. Where does that leave the service user and their families?

* Search on the internet for any media coverage on the care home, good or bad over several years. Be aware in
some areas of the UK, the press are not so quick to report bad care home news and in some areas it can be a
challenge to find Reports. There is also the added difficulty that many care staff and families are 'gagged' from
discussing their case.

* It is very worthwhile contacting independent care home campaign/pressure groups like Your Voice Matters.
These groups are an invaluable resource for families looking for care. They are not part of the care
'Establishment' and not financially reliant on care companies unlike the large national care charities. They are in
touch with reality and often have a constant source of up to date information from people using or working in
care homes all over the UK. They may know of families or care staff who are currently having difficulties with a
care home you are considering, but they may also have received positive comments too that would reassure
you.
* Find out if there have been frequent changes of Managers, this can highlight possible problems of unsupportive
owner or other issues

* Are you aware of this care home/care company frequently advertising for staff, this could mean they have
problems recruiting, why?
* If a large care company, research the Management Team, what 'care' experience do they have? What is their
background? What associates do they link up with which could highlight a conflict of interest.
* Research the financial history. If you are not financially aware, find someone who is. There are many places
online on the Internet to carry out FREE credit checks of Companies, identifying cash flow issues which dictate
the general day to day operations of care home.

There may be a lack of investment with regards staff ratios and quality of training. It could also highlight historic
financial failures, and you need to be aware this could present a risk of closure in the future. If the care
home were to experience major financial or operational issues and are forced to close, are there contingency plans
in place to move your loved one to a new care home?
A financial search may also flag up associated businesses which may benefit from the income from the care
home and considered a more important asset to the owner. Or, it could distract an owner from the
commitment needed to run a 'tight ship'.

* Ask other families who have used local care homes their experience, but again, remember this is personal
opinion.