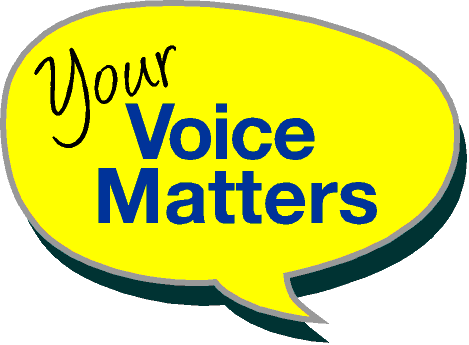 Promoting Care with Dignity and Respect
Please note Your Voice Matters is an information source only via this web site. The campaign ceased to operate in 2018

Care Home Owner Wrongly Accused
This is a real life situation shared exclusively to Your Voice Matters from a loyal supporter. It highlights the devastation that can be caused to staff when accused. It also highlights the same issue for families, it is not only the accused who suffer, it is the whole family support network.
Like many other cases of wrongful accusations, CCTV/Surveillance could have prevented endless hours of investigation not to mention a long period of extreme distress for the accused and their family.

Surveillance is not only to protect residents and we hope this story will help to highlight this.
Your Voice Matters wishes to express our sincere thanks to the author of this story.
"Our care home has been running for 32 years now. It is set in our own home and my husband and I care for 5 adults with learning disabilities. We involve them in our daily lives and support them in theirs; finding out what they want to do and making sure they are able to do it. People tend to come and then want to stay as they love it so much. This means most residents have lived here for some years and we view them and their families almost as extensions of our own family. We love this work and have built up an excellent reputation over the years.Imagine the shock and horror then when, one day last year, we received a phone call from social services saying allegations had been made about my husband by one of our residents who had lived with us for over 20 years and that they would not be coming back here from the day centre. At the time I was sitting on the sofa doing paperwork and my husband was doing the ironing; a very normal day.We decided the problem must be something to do with consent over a dentist appointment as this resident had complained about not wanting to have some work done on their teeth the night before. We had never had any complaints made about us in all the years we had been doing this work so were not used to the safeguarding system in action. No training could have prepared us for the actuality of the situation.My husband was asked to go to the Police station and we both naively thought this would be straightened out in just a few minutes. He finished ironing a Tshirt , gave me a hug and drove down to thePolice station. He was arrested as soon as he walked in and then put in a cell for 5 hours while they found a duty solicitor. He was searched and finger printed and had DNA samples taken. He was treated as guilty. He was eventually questioned and horrified to hear what had been said about him. He was eventually released but was not allowed back into his own home or anywhere near it because of the other residents living with us.
I had received very little information at home looking after the residents. I was asked by Police to organise somewhere for him to live from that night and was told that he was in a state of shock but was not told what the allegations were about. Thankfully his sister was able to have him to stay with her. I picked him up from the Police station and we drove to his sisters together. He had collapsed onto me on the way out of the Police station. He was white, cold, sobbing and shaking and immediately told me all of the allegations. I knew very well they were completely false. After over 40 years of being very happily together I knew he was not capable of anything that had been said.
We continued to believe that this would be investigated by the Police and would be straightened out in a few weeks. Instead the bail was extended time after time. He was not allowed in the home at all for the first 5 months. Police seemed to work extremely slowly, not even visiting the home or interviewing me as the manager until 9 weeks after the allegations were made. We were given no support and almost no information about what was going on.
We were told we should not talk about this to the families of our residents but have never worked in that way and told them all within around a week of the allegations being made. Despite them being concerned for the future of the home and the possible upheaval to their loved ones if we had to close they were incredibly supportive. All of them have since said they were glad we were honest with them right from the start. We have worked so closely with the families alongside caring for our residents that they trust us and could not have been kinder, even offering my husband a bed if ever he needed it while he could not be at home.
My husband became suicidal at times during the waiting time. This was purely because of the stress and the fact that he felt his life's work had been held up to ridicule. He was devastated and the whole family were having to keep a watch on him and make sure he was alright. I of course had to remain in the home at night in order to care for the residents. We are such a small home that we only have one other full time staff member and they were working hard every day to allow me time to be with my husband and try and keep him going as much as I was able. We actually spent many, many hours just driving around country lanes trying to work out why this had happened to him, to US, after so many happy years. Night times were the worst as we had never been apart and we were left phoning or texting into the small hours, just trying to help each other through it. Lots of tears were shed, lots of anger, lots of fear for the future.
This situation altered slightly after 5 months as we went to court to ask for the bail conditions to be changed so that my husband could come into the home when the residents were not there (they all go out to various activities on weekdays). In fact after some deliberation the court ruled that he could come into the home 9 to 5 on weekdays as long as he was supervised around residents. The residents had found the whole situation very difficult. However hard I tried to make it easy for them a person they had lived with for many years and who they had relied upon for support and care was suddenly gone from their lives. We blamed it on illness but when he returned home they were so pleased to see him and it turned out that one man had thought my husband had died. He cried and stroked his face when he saw him, pulling my husband's head down so he could kiss him on the top of his head. All of them gave him such a welcome back, but of course he had to leave the home at 5pm every night and was not there at all at weekends (we never could work out these strange bail conditions).
We struggled through the months, building our hopes and fears up to every bail date and then finding it was merely extended for another 3 months or so every time. Police 'forgot' to send off the file to the CPS, then the CPS had it on their desk for another 5 months. Then we had a phone call whilst out driving to say my husband was to be charged. This was the news we had been dreading and to hear it in a layby on a busy A road was hardly ideal. I am not sure how we got home safely that day. I phoned our family to let them know on the way home and they all arrived to support us as we got home. We all cried out our anger and disbelief together.
My husband collapsed when he heard the seriousness of the charges. The ex-resident had apparently made a lot more accusations in an interview a month after the first one but he had not been questioned about any of these so the charges were based on unknown allegations. He had to go to court and plead not guilty, still unaware of what had been said about him. He actually did not hear all the allegations until a year after they were first made.
There were a number of trips to County Court. Each one was as nerve racking as the first. Our solicitor was extremely supportive. We had a lot of paperwork which showed the allegations could not be true but with the mood of the country basing its opinions on Saville and Co we were very scared of the outcome from a jury. Our paperwork had not even been looked at by Police or Social Services, despite me telling them all that it was there.
The trial eventually took place nearly 18 months after the first allegations were made and lasted 4 days. The paperwork finally came into its own. The allegations were so fantastic that, when gently questioned (we were determined the person making the allegations should not be distressed by the court system) they all fell apart completely. We were still concerned that a jury could still make a decision against us, but it was obvious it would have been a total miscarriage of justice if they had.
While we waited for the jury to come to their decision we had to sit with our defence people and discuss, if the decision came up guilty, whether or not my husband should be jailed that day or whether he should delay it for two weeks to allow him to put his affairs in order. That was the point that I truly started to believe that this could go wrong and my loving husband could be thrown into a jail cell for something I knew he had not done. They said he would face anything from 5 years to 18 years, depending on what the judge decided. We called our three sons in to help us make the decision. They had been at the court with us throughout, along with their wives and a number of our friends. We all sobbed making that decision and said it would be too hard to get through another 2 weeks so he should go straight to jail if the worst happened. I had to take his wallet and watch and, worst of all, his wedding ring. We were falling apart.
We were called back into court just before 4pm, 2 hours after the jury went out. We had been told that if the jury needed more time they would have to continue the following day so my thoughts were how on earth I would be able to get my husband through another night of not knowing. Suddenly we realised they had actually reached a verdict. Security guards arrived at the court doors so we thought the worst. There were 16 of us in the public gallery all holding hands so tightly and barely breathing as each charge was read out in full. There were eight charges in all. Each one came up as unanimously 'Not guilty'. By the time we got through number seven, which was the most serious charge, we were all sobbing and hugging each other.
My husband was nearly collapsing in the dock and just hanging on to the front rail with his head down. Suddenly the judge called his name and he looked up, dreading what she was going to say to him, but, with a huge grin on her face she told him to either sit down or get out of her court. He was allowed straight out to join in the hugs and tears with me and all his family. We looked across to the jury to thank them and realised they were all in tears too. As we left the court the prosecuting barrister hunted us out amongst the crowd of hugging friends and shook our hands and wished us luck. We could never have another day in our lives with such a low and then such a high in such a short pace of time.
What saved us in court was our paperwork. All through the years I have complained bitterly about keeping daily records, etc., but I have never been so grateful to have it all there. I would never wish this situation on anyone. We completely agree that the initial allegations needed to be investigated, but the length of time taken and the lack of experience of Police with communicating with people with a learning disability made a terrible situation so much worse. People should not be assumed and treated as guilty until proven innocent; they should not have to go to court to prove their innocence as my husband had to.
The law of the land is that a person is innocent until proven guilty and that should not be forgotten under any circumstances."