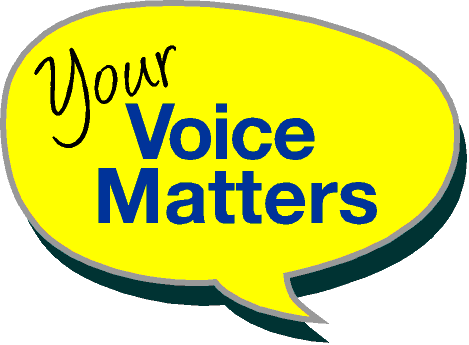 Promoting Care with Dignity and Respect
Please note Your Voice Matters is an information source only via this web site. The campaign ceased to operate in 2018

Many health professionals visit people receiving care in a care home or in their own home. They are our eyes and ears for what we cannot see, not just the bad but the good too.

Even if bad practice is witnessed, some will not report it, because they fear the consequences of whistleblowing. Families then take the responsibility to report concerns, often with devastating consequences - their loved one may be evicted or the family banned (Click HERE) . Families are not given a choice, they find themselves in an impossible situation and they whistleblow because no one else will.

We must not ignore the good aspects of care and want to hear about good practice too! Families come to us who are looking for a good care home, but sadly as we all know, we cannot rely on Inspection reports or care review sites and often it is only by word of mouth people can make informed choices.

Your Voice Matters want to connect with health professionals. Care home staff come to us with their concerns, feeling there is no one they can trust. This has been a very positive step for Your Voice Matters. Only by receiving invaluable information from the 'inside', can we really know the true picture is and it helps us to build a picture of historic failings in care homes, some of which never get officially reported. We act on information we receive, protect the identify of our informant and push for investigation into care homes we know are covering up failings.

Health Professionals need to know there is a safe place they can report concerns. Your Voice Matters is that place.

By working closely with Health Professionals it would mean more issues would be dealt with before they escalate. We would know about them and report them, and fewer families would have the upset and stress of having to take steps to raise concerns.

You may work in health yourself or know someone who does. We want to connect with anyone involved in delivery of care in a care home or home care setting. This may include:

Admiral Nurse
Chiropodist
Consultant
Dentist
Dietician
District/Community Nurse
GP
Macmillan Nurse
Occupational Health
Orthopedics
Podiatrist
Physiotherapist
Speech/Language Therapist
Reflexologist

We hope that health professionals will visit our web site and want to work with us, to help stop neglect and abuse of our elderly and vulnerable in care homes and home care settings.