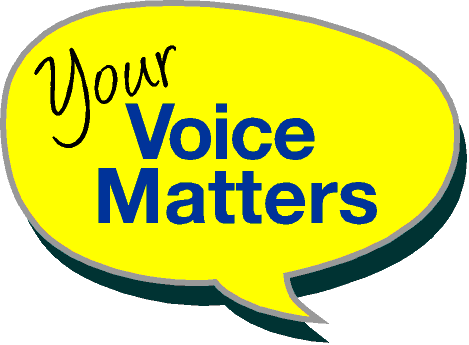 Promoting Care with Dignity and Respect
Please note Your Voice Matters is an information source only via this web site. The campaign ceased to operate in 2018

The 'Sandwich Generation'
"8 out of 10 users identify choosing care as a major source of stress."
Choosing care is only the start ......
It is not an easy decision to make when you realise your loved one needs 24 hour specialised care. You are handing over someone so precious to you, to be cared for by people you should be able to trust, yet you feel like you are playing Russian Roulette.
In July- August 2014 250 people who use the Mumsnet and Gransnet web sites, took part in a survey commissioned by the Care Quality Commission.

"Our survey of users of the two websites found that choosing care for a parent or other older relative can be more stressful than divorce, separation, choosing a school, getting married or buying a house. 84 per cent of those who took part describe choosing care for a parent or other older relative as 'very stressful' or 'quite stressful', ranking it higher than many of life's most stressful events." CQC survey October 2014
CQC are fully aware of the stress and devastation caused to families by the care sector, but individual concerns are not in their remit. They have become more and more aware that their Inspection Reports do not always reflect the reality of care homes, whilst at the same know families consult these Reports to make informed decisions.
Why did we need a survey to prove this is a serious probem. PR exercise to impress a well regarded organisation like Mumsnet and for their followers to feel they are being considered?
Your Voice Matters understands the stress for families does not stop once they have completed their search for care, it can be just the start of this most difficult of journeys. The stress and exhaustion continuing until their loved one sadly passes away. Often pain and feeling of guilt is experienced, with the family believing they could have done more, that they failed their loved one, when the reality was there was no more they could have done, against a system designed it seems, to protect everyone but the resident and their families.

With this being such an issue, why are families not being listened to, included and appreciated by the sector? They are often dismissed when all they want, is to feel they are contributing and being included in their loved one's care? Why do many care homes not welcome that when most of their web sites and literature say they do?

Families have now entered a relationship of power struggles, their concerns and suggestions met with an attitude of the 'experts know best'. It is often exactly this attitude of care home managers that causes issues to escalate until the relationship is beyond repair.

A family defend their concerns when they are met with a defensive Manager and BOOM! the spotlight is now on THEM, the original concern fades into the distance. THEY have now become the problem. Consequence? Families are asked to move their loved one out, or their visits become so uncomfortable, they feel they have no option but to move them, even though they have done nothing wrong. The next part of the journey in a search for good care continues, with the CQC saying "It is a shame xxxxx has to move out of the home." We would not call it a 'shame', we would call it unacceptable.
"I am one of the 'Sandwich Generation'. Since 2010 I not only carried on with my everyday responsibilites of being a busy Mum, but I was launched into a relentless battle with the care home sector. Like many others, we did not expect a 100% perfect care home, all we wanted was our loved ones to be cared for with dignity and respect, to receive good person centred dementia care. Was that really an unrealistic expectation? We are now on care home number five, two counties later. Read my story Click HERE .
"My own efforts trying to work with care home providers, resulted in my loved ones being evicted from one care home and me being banned from another for 3 years. We had two young sons to care for whilst we researched and visited care homes, with no childcare to look after them whilst we did this. The pressure put on us was overwhelming. The five years of fighting for justice, the pressure, stress and worry of trying to keep our loved one safe, led me to develop a chronic painful illness and relocate. It has been life changing for our family and I know we are far from unique."
"When I found myself banned only a few months after the death of my father-in-law in the care home, our children were then denied the frequent access they once had to their gran, all because the care home lied to keep me out, so I could no longer see their failings and challenge them. I have never been able know the serious allegations made against me to defend myself, and no one has been made accountable for our family being denied full access for 3 years. Those times denied to us as a whole family can never be regained, they are lost forever, as my mother-in-laws dementia progresses."

"These painful memories will remain with our family forever, including our children. We wanted them to visit their grandparents, get involved, and enjoy being a part of their life in the care home. They have now seen the reality of how families are torn apart, destroyed by the very ones being paid to 'care', not only in our own family unit, but others too. So many of us all over the UK have had to find out the hard way. It simply has to stop." Jenny Moore, Your Voice Matters

Sadly there is no sure way of knowing if a care home will deliver what it 'says on the label' until your loved one has moved in. Inspection Reports do just that, report on what the Inspector witnessed on the day, they are not used to dig deep, investigate and uncover the truth. Care home review sites are unreliable, often the companies who run them receive finance from the care homes themselves to register, therefore they need to protect their income. We have information of one such care review company who advised a care home they did not publish the review live online as it was negative, but sent them a copy of that person's review anyway. Please bear that in mind when you do your research. Visit 'Looking for Care' Click HERE


Your Voice Matters would like to see care home advertising being covered
by the Trades Descriptions Act, just like any other business.

We want to reach out and connect with families in the UK, to share our knowledge to assist them in making informed choices, not choices based on the information fed to them by the care sector itself. We hope you find just that, by visiting our web site.

The care sector say they are passionate about bringing generations together, yet they use their power to control families for their own best interests and in doing so, often destroy them.