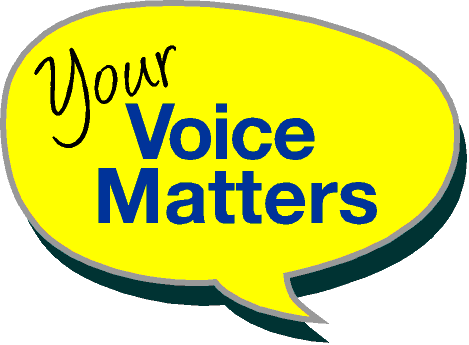 Promoting Care with Dignity and Respect
Please note Your Voice Matters is an information source only via this web site. The campaign ceased to operate in 2018

TRAINING - IS IT GOOD ENOUGH?
Your Voice Matters do not feel the training offered to care staff is good enough in many care homes and home care organisations in the UK. This is not fair on the residents or staff.
We seem to be evolving into a world where human interaction is becoming less and less. Our view is communication, interaction, human touch are essential for both resident and care staff.
Some care home owners cut corners by paying for the bare minimum of training, in order to obtain a Training Certificate for their staff, the quality of that training not given the consideration it deserves. We must also remember those care homes who complete their paperwork stating staff have done the training, in readiness for an Inspection by the Regulator, where in reality they have had none. Staff won't speak out and owners know this.

Some care homes cover the bare minimum for Dementia training, many care staff receiving only half a day training if that. That enables the owner to say their staff are now trained in Dementia, promoting this on their web sites and literature.

We do not consider it is fair on any inexperienced care staff to be expected to care for residents with complex needs without the necessary preparation. Dementia as it progresses can present many challenges such as inappropriate toileting, inappropriate sexual behaviour and aggression to other residents and staff. Is it really fair to put any care worker, especially a young inexperienced one into these situations? We don't think so.

With some care homes wanting to protect their profit margins, often investing in quality training for their staff is an area they cut back on, which can often result in disastrous consequences, possibly fatal.

Quality training should help ensure residents are being well cared for by staff who understand their needs. It also demonstrates a commitment from the owner to their staff. The result of that is staff will want to work for you and more importantly will stay with you offering consistency and familiar faces for the residents, thus preventing the struggle of trying to manage on a minimal workforce, or the need to survive on over priced agency staff who do not have a good knowledge of the residents needs.

Often we read posts of forums from some people looking for work. It reads they are searching for work 'in a pub, supermarket, cleaning or in a care home'. That says it all really, on how we view our care home sector. The wages paid do not reflect the demanding role our care workers do. It is not seen as a vocation, it is viewed upon by many as nothing more than a job to earn some money.

Wages and training are two factors we feel influence the calibre of people who apply for jobs in care homes. We hear it is quite easy to walk in off the street and find a job in a care home, bearing in mind the current recruitment difficulties in the sector. We know some care home managers who have said 'It is so hard to get staff, I would rather have bad staff than no staff'.

Your Voice Matters believes no care worker should be allowed to work in a care home without studying and sitting an exam to obtain a formal recognised qualification. We also feel this should be paid for by the person themselves, with a contribution from the Government or employers themselves. This may sound harsh, but it would demonstrate their commitment and desire to work in care. This idea could be explored and ways found to means test, in order to assist those who do not have the money to pay for this training. We would not want to obstruct genuine, passionate people from entering the care home sector, we need them.

Of course, for a prospective care worker to finance their training, we would need to ensure there would be a salary for them to reflect their own personal investment.

We want to see legislation for a formal qualification for care staff prior to working in a care home, a reflective salary and more opportunities. We want to see care staff invested in and valued for the great job they do.

Happy staff = well cared for residents = reassured and happy families = happy care home Manager/Owner












No one should be allowed to work in a care home by passing a tick box exam on an e-learning course. You cannot teach compassion.

Many start work in a care home with no understanding of what challenges the job will present, or what will be expected of them. New staff are often promised 'on the job' training and supervision but it never happens, leaving them feeling alone to just get on with, they feel overwhelmed and often leave. It causes stress and upset for everyone involved. This is very sad, as it is exactly those type of people we need to be attracting to work in the sector.