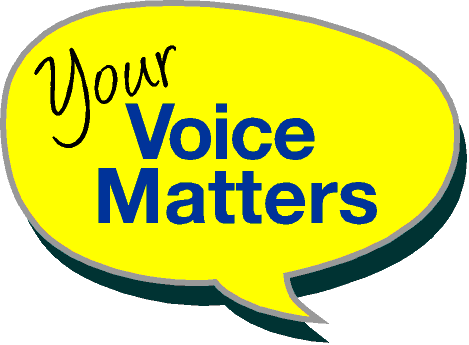 Promoting Care with Dignity and Respect
Please note Your Voice Matters is an information source only via this web site. The campaign ceased to operate in 2018

You have done your research,
now it's time to visit ....
You now have your short list of care homes to visit. This can be a very emotional time for many
families. You have found yourself in a situation you really do not want to be in, but have no choice.
It can be hard when you are wanting so desperately to find a place you feel confident will look after your loved one.

Some care homes insist on a pre-arranged appointment to view. There is no justified reason for this, and we feel a care home should welcome prospective client's families into their home to view at any time of the day within reason. We would however, suggest avoiding meal times on a first visit so that staff will have more time to spend with you to show you around and answer your questions.

On arrival, was the building in a good state of repair? Were the gardens well tended?

Were you able to walk straight into the care home, or did you need a member of staff to let you in? If the home had a key pad entry system, was it working?

Once inside were you asked to sign in. Normal procedure.

Were they happy to show you around and who took responsibility for that?

Were you introduced to the Manager or Deputy?

Did you notice any strong or urine smell? This could indicate poor housekeeping or poor incontinence management.

Look out for Activity Schedules on the walls. Beware, they don't always happen.

Is there a mini bus? May look encouraging, but some care home rarely use them for their intended purpose. We know of a care home where the Activities Co-ordinator could not take residents out because the mini bus was being used for errands. This was a large corporate care home that comes with all the fancy packaging.
Is there a staff member on a medication round? Do they observe the resident taking the medication, or do they just leave it on the table alongside them?
Are the staff friendly and welcoming or are they rushing around looking stressed?
Can you hear call bells and calling out from residents? If so, how long did it take for a member of staff to attend? It can be distressing hearing residents crying out for help. Please bear in mind this is not always because they are in distress, it may be a behaviour pattern caused by dementia for instance. For some residents, staff could return to them every 5 minutes of the day and still the person is not comforted. However, there is also the danger that staff become conditioned to it and choose to ignore. A very difficult situation, which we would hope would be covered by quality training and enough staff on the floor to cope with such demands.
If residents' bedroom doors are open, look out for residents sat on commodes, lying in bed with no bed covers or in an uncomfortable position, untidy rooms, stained carpets, incontinence pads on the floor, trays of dirty crockery left not cleared. If on their own, do they have a radio or TV on for some stimulation or are they sat in a chair or lay in a bed looking at a wall.

COMMUNAL LOUNGE AREAS

Look at the positioning of the chairs. Are the residents all sat in a circle around the parameter of the room or are they in a semi-circle arrangement, making this a more social experience? Do they have side tables alongside them for drinks? Are there chairs available for visitors?
Is there a TV on? Is the channel suitable viewing? Sometimes families tell us they
despair, by the choice of uninteresting programmes residents are subjected to.
Why should this not be a stimulating experience, rather than just background
noise or a programme staff want to watch whilst they go about their job? A little
thought goes a long way. Do all residents have an easy view of the TV?

Can residents see outside? What is the view like?

Are the carpets, chairs and curtains in good condition? If your loved one has dementia, non patterned furnishings are more appropriate. Any good dementia care home will be able to talk to you about why some style of environments are more suitable, there is also a lot of information about this on the internet.

There may be an open plan kitchenette area. Are there any hazards you need to consider? Are cleaning fluids, dishwasher tablets, knives etc locked away? Do not rely on staff supervision as a safety guarantee, as circumstances may lead this area to be left unsupervised at any time.

Look out for warning signs around electrical aspects, such as loose lights or plug sockets damaged.

VISITORS LOUNGE

In some larger care homes they offer a separate lounge area for visitors to sit with their loved ones when visiting. This is often most welcomed by families, especially if you find the care home environment a difficult one emotionally. You can have some more private and quiet time with your loved one away from the more public areas of communal living, without being confined to their bedroom.
BEDROOMS

The bedroom is a critical component in your loved one's care. The room has to be fit for purpose, clean, safe, tidy, comfortable and welcoming.

Space can often be quite limited compared to the bedroom they are used to in their own home and that includes storage for clothing etc.

Many Dementia care homes encounter problems with residents wandering into each other's bedrooms. You need to be aware of this when considering what possessions your loved one will take in with them. We would advise not to take anything of value, but to take special items in when you visit to enjoy together.

Is the room you are being shown the actual room your relative will move in to, or is it a show room?
If a show room, ask to see the actual room?
Is the bedroom lockable? If so, under what circumstances do they lock it?
How many panic alarms are in the room and can they be easily accessed?

What type of bed will be used? Standard or Nursing and is it in good condition?

What type of mattress? Normal, Memory Free, Nursing Mattress

Do the care home provide alarmed floor mats to place by the bed?

Are there enough wardrobes and cupboards space for your relatives clothes?
Is there a lockable cupboard for possessions?
Are carpet, curtains and furniture all in good condition?

Wall, skirting & door frame, is there any damage from beds being moved?

Any electrical issues, such as loose lights or plug sockets damaged.

Check the windows open and there is a functioning safety catch.

How often is the room cleaned?

How is the heating for the room controlled?


BATHROOMS

There may be the option of an ensuite room for your loved one. This is often a toilet and wash basin only. Don't be put off by this though, as a communal bathroom is more spacious and for some it may feel less confined.

If there is an ensuite, is there a lockable cupboard for their toiletries? This is particularly important if your loved one is a risk of swallowing dangerous liquids etc.

Are pads kept stored safety or opened packets on their ensuite floor or packets on floors in communal bathrooms? Again this is something to be aware of should your loved one have a behaviour pattern where they may pick at objects and ingest.

Is there a choice of a bath or shower?

How many bathrooms are there for the care home? Number does not always guarantee all are used, so look for signs of them being used for storage, or looking unused.
Is there a hoist to assist those less able?

Sink areas especially tap heads, look for lime scale which would show regular cleaning or not.

Are toiletries left out in communal bathrooms, this can be a sign that your loved ones personal toiletries may end up here to be used by all.

Look for exposed heating pipes without cladding.
GARDEN AREA
Do not think just because there is a garden, residents have frequent access to it. This can be because staff numbers are low and they do not physically have the time to take residents outside, as much as they wish they could, or it can be a case of fresh air and outside activity is simply not considered a priority.

Are the gardens well tended? Are they secure? Check for cigarette butts discarded in the flower borders or by the door, residents or frequent staff breaks? Assess possible hazards.

Fresh air is very important. It provides a steady supply of oxygen which is needed by your brain and every single cell of
your body. The air that you breathe in any indoor location is not as fresh as your body needs to remain healthy, and the sometimes poorly ventilated over heated care homes do not offer a particularly healthly environment for residents or staff. If stale air is breathed in over long periods, the oxygen content will go down and there will not be enough oxygen supply to keep cells fuelled and functioning. Breathing in stale air can cause various health problems, a worry for those who are already frail.

Surely fresh air is considered a basic human right? Yet, we know of some residents who are never taken out of the care home building, we have known some cases where this has been over several years. Not all residents have family to take them out, or the relatives themselves maybe elderly and unable to offer to do this.
NUITRITION

Good nuitrition is so very important. Ask the care home where they source their catering supplies. Do they buy organic wherever possible, or is it purely down to cost.

Is there a qualified chef on site? Ask to see samples of their menus. Are meals/snacks available throughout the day or only at set times? Meal times should be a time when residents are nourished, not only with good food, but with good company too.

OUTINGS

As you approach the care home to view, you may see their mini bus outside, and once in the care home you are told about the various trips residents are taken out on. In some homes this may be the case, but in others that is not so. We have heard of care home Activity Workers unable to take residents out as the home were using the mini bus for errands. We have heard of care homes who have a mini bus, yet residents had not been out in it for over 12 months. Another consideration is, are there enough staff to release from the home to escort residents on trips?

ACTIVITIES

You may see posters advertising the care home's activity schedule. Be aware these do not
always happen. Take any photo album strategically placed in reception for what it is. It
will not necessarily reflect a consistent level of activity for residents. Even if a care home
has a designated Activity Co-ordinator, this does not guarantee regular activities take place.
We hear from many families and have personal experience of this. Worth remembering,
not all residents relish the prospect of afternoon bingo!
EXTRAS i.e. Hairdressers, chiropody
Some care homes have their own hair salon within the building. This can suit many, but be aware the care home may encourage you to commit to more 'trims and blow drys' than your loved one needs. You will no doubt want to feel you
are doing your very best for your loved one, but do not be emotionally blackmailed. Some families take their loved ones out to visit a hairdressers, this benefits the resident as they get some fresh air, a change of scene and some quality family time, but it also benefits the family, who may feel they have no input into their loved ones care.

Many care homes have a visiting chiropodist, but beware! If you are using this service
please take time to check their feet for corns, ingrowing toe nails etc. Just because you
have a bill for each treatment, you cannot say for sure if was done, and how much time
was spent. 'Non-compliance' can often be used as a reason for not being able to tend
to a resident's feet, yet the family take them out of the care home to another
chiropodist, who has no problem at all. It is a common issue for many families we hear
from. Here is a photo of a resident's feet under the care of contracted care home chiropodist.
These shoes were not her shoes, her footwear
constantly disappeared. So for days the family would
find her walking around in just her socks.
One day they found her wearing these shoes, they were not her own shoes and were falling apart, leaving a trail of black rubber as she walked around the care home.

The family questioned this and were told they did not take them off as she 'seems to like them'.
Your Voice Matters appreciate how difficult it can be for staff, especially in a dementia care home, where some residents may change their clothing frequently. However, some are not able to change their footwear or clothing, or be able to attend to their own personal hygiene. Dementia is constantly used as an excuse for undignified care. It is not always justified.

We do not see anything that represents 'Living Well With Dementia' in these photographs. No consideration to safety or dignity of this resident.
Sadly there is no sure way of knowing if a care home will deliver what they promise until your loved one moves in.

You can find lots of information on the internet offering more comprehensive guidance notes, should you wish to consult.

We hope our perspective as people who have experienced looking for care and having to deal with the consequences when the reality has not lived up to what they read, what we saw, and what we were told, will open your mind to look beyond the hard sell.

We are always grateful to have feedback on your experiences when looking for care, including the outcome, good or bad.

Good luck !
You journey home to reflect on all the information you have been given, to make what can be a very hard decision for many, often life changing.

You have had your questions answered, seen the room your loved one will move into, met the staff and hopefully the Manager.

You do not want to make this decision but know it is the only option you have.
Are you 100% confident in the care home? Do you feel you really know what goes on behind the scenes? Only you can answer that.