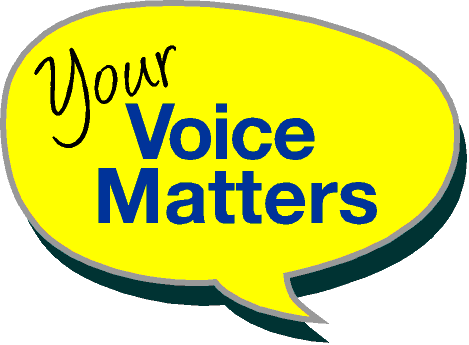 Promoting Care with Dignity and Respect
Please note Your Voice Matters is an information source only via this web site. The campaign ceased to operate in 2018

Whistleblowers - The Courageous Ones
When we hear of whistleblowers in the care sector, it often refers to those who work in the NHS. We must never forget social care, the forgotten, yet important partner care.

It is not very often you hear a report of a family member who has whistleblown. They often feel they have no choice, as all attempts to resolve concerns about care of their loved one remain unresolved. The care professionals do not report, as they are fearful of the consequences.

Families who whistleblow may not work in care, but they also often make huge sacrifices to do the right thing, yet this continues to remain unacknowledged in all debates on whistleblowing. Marriages, relationships can break down under the stress, they may lose their own job as a result which can then lead to financial difficulties, possibly the loss of their home. Their health may suffer. They may find themselves labelled as a Habitual and Vexatious Complainant, or a safeguarding risk with care providers orchestrating a package of lies in order to keep the pro-active and observant family member out of the home. This defamation of character can affect friendships as word leaks out from the care home into the community, their reputation now in tatters. Young children can also be affected as their parents struggle to hold it all together whilst their battle with care homes continue.

When a care home victimise a family member, it affects the whole family unit and is literally life changing. Even when their loved one has passed, the trauma of dealing with a ruthless care home provider continues.

As a campaign we have spoken to District Nurses, senior staff in Local Authorities, all sharing our concerns on some care homes. Do they speak out? The answer to this varies to what area of the UK you are focusing on.

We totally understand why care staff are fearful of reporting bad practice they may see in their workplace. Their peers may bully them, they may lose their job, they may not be able to secure an alternative job in a different care home as the word spreads amongst the local care home communities, especially in more rural areas of the country.

We know of staff who have reported concerns to our Regulator the CQC, only to find there is no positive outcome, the concerns brushed under the carpet, with no evidence to back it up. The only result is a negative one, with them finding it intolerable to remain working in that care home.

For staff who are understandably disillusioned with the Regulator and effectiveness of local Safeguarding Teams, they feel their only option is to move on. However, this means the issues are never addressed and it is of grave concern to us, how many vulnerable people will suffer until the next brave person decides to whistleblow, if indeed they do at all. This is a point we have raised with the Regulator CQC. Why should families be forced to move their loved one when it is the care home at fault? Why should care staff feel they have no option but to leave, when they realise their employer doesn't care?

We continue to be very grateful to those care staff and families who come to us with information, which we then create an alert on their behalf, and remain on the case until the Regulator have visited.

We believe having CCTV installed in communal areas and more discreet methods of monitoring personal bedrooms/bathrooms would encourage more whistleblowers to come forward. With recorded evidence to back up allegations, they would not have to endure the stress of a prolonged investigation often with disastrous consequences.

Your Voice Matters long for a day when it is considered a good thing to be a whistleblower, when they can feel proud they did the right thing. it shows you genuinally care even when you finish your shift.

Never ever doubt just how much residents and their families need and appreciate you. You are their eyes and ears when they are not there.

Thank you.